Alfred State has been designated a gold-level military-friendly school by Victory Media. With enhancements to the Post 9/11 GI Bill®, such as monthly housing allowance and a books and supplies stipend, veterans will find college expenses more affordable. At Alfred State, we offer a veterans' lounge, a veterans' center that houses ROTC staff, and exemptions on parking fees for student veterans.
Important Note: GI Bill® is a registered trademark of the U.S. Department of Veteran Affairs (VA). More information about education benefits offered by the VA is available at the official U.S. government Web site at https://www.benefits.va.gov/gibill.
No Parking Fees For Veterans
Student veterans may be exempt from parking fees. To be exempt, please print the Veteran Exemption Form (pdf) and bring it along with a copy of your DD Form 214 to University Police.
Contact Us
We're here to help! If you have questions about enrollment, please contact Admissions Counselor Tony Rudolph by phone 607-587-4215 or email rudolpar@alfredstate.edu.
For questions about processing your bill, you may contact Certifying Official Marjorie Morgan by phone 607-587-3953 or email morganmm@alfredstate.edu.
Join Our Group On Facebook
Veteran alumni, faculty, staff, and students are invited to join the Alfred State Veterans group on Facebook to meet, share information, reconnect, and network. Veterans' dependents and friends of Alfred State who support veterans are also welcome to join as well as family members of those who are in active duty. We want to meet you and hear your story.
Brian Hierl
Nursing
After 24 years of service in the Air Force, Brian Hierl knew he wanted to go to school for nursing because it would give him opportunities to progress and help people.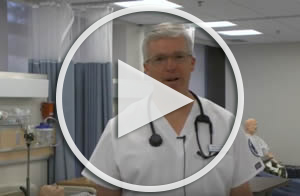 When conducting his college search, he looked into Alfred State, and came away impressed.
"Researching the school in general, everything I saw said that they are very action-oriented, meaning they focus on the skills you need to have to actually perform. It's not just all lecture. The hands-on experience was very important."
Additionally, Brian noted that Alfred State's affordability was another reason he chose the school. As a retired member of the military, Brian also received financial assistance from the Veterans Tuition Award and the Montgomery GI Bill.
Coming into the nursing program as an older student, Brian was understandably tentative at first. However, he quickly learned that he had nothing to be nervous about.
"Everybody made me feel pretty comfortable. They treated me like they treated everybody else, and that was important to me. I made the transition pretty quickly and seamlessly."
Because he is receiving a high-quality education at a great price in a friendly environment, Brian highly recommends Alfred State to any adults looking to further their education.
"I mean, how do you go wrong?"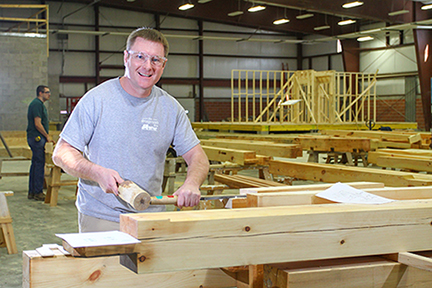 Bill Buckner
Building Trades: Building Construction
When former Army Master Sgt. Bill Buckner, of Friendship, decided to attend college to learn building trades, he wanted some hands-on work, rather than sitting in a classroom all day, so he chose to earn his degree Alfred State.
"I didn't want to write a whole bunch of papers. In my major, you sit in a classroom for an hour or two in the morning and then you apply what you've been taught. Plus, you're more active."
The 20-year military veteran noted that he is attending Alfred State through the Post-9/11 GI Bill, which provides, for approved programs, up to 36 months of education benefits, generally payable for 15 years following an eligible soldier's release from active duty. The three major benefits of the program include up to 100 percent paid tuition, a monthly housing stipend, and a stipend of up to $1,000 a year for books and supplies, according to www.military.com.
"It's just a wonderful program."
Alfred State, Buckner said, is very veteran-friendly. He said what he enjoys most about the college is, without question, the hands-on aspect.
"I think you learn a lot more by doing."
Jordon Williams
Electrical Construction and Maintenance Electrician
After completing his service in the Marine Corps, Jordon Williams, of Hammondsport, began researching colleges to attend.
His search ultimately brought him to Alfred State.
"It had the best program for what I wanted to do."
Williams said he would like to become a wind turbine technician after graduating. He said the faculty have helped him out tremendously and that the college has given him the knowledge and confidence he needs to have when entering the workforce.
"The hands-on aspect at Alfred State has helped me get ready for the career I want because we're getting all of that information that we need, all that training that we need, besides just reading from a book. We're getting that hands-on experience that employers are looking for."
Williams advises incoming students to not get caught up in "college life."
"You're coming to learn how to develop into an adult and this is going to be the education that you'll have that makes you either a failure or a success."
Hero of the Week
As a small recognition of thank you to our veteran/military service community on the Alfred State campus, both student and faculty/staff, the Veterans Advisory Committee is pleased to be partnering with ACES to offer one selected veteran/military service member a voucher for a free coffee during their selected week of recognition. Individuals will be selected randomly by the Veterans Advisory Committee. If you know an outstanding veteran/military service member of the Alfred State community and you wish to see them recognized, please email Nikkie Herman at HermanNR@alfredstate.edu.
Lounges
Alfred State offers two specific areas designated just for veteran/military service students to utilize; the Veterans' Lounge and the Veterans' Resource Center.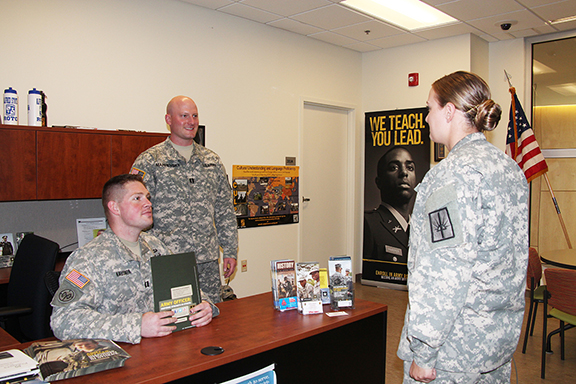 The Veterans' Lounge is located in EJ Brown, room 201. This space offers comfortable lounge furniture, refrigerator, microwave, and several computers. This room is accessible through a key code so only veteran/military service students and faculty/staff have access.
The Veterans' Resource Center is located on the third floor in the Student Leadership Center (around the corner from Ever Green Cafe). This facility is staffed with two VA work study students who currently attend Alfred State and are veteran/military service. They are there as a resource for students and can help or refer students to the appropriate office. Coming soon will be more veteran specific services like tutoring, career/resume assistance and more. This facility also houses our ROTC officers once a week. For more information, please stop by the SLC Veterans' Resource Center.
The Center is open at the following times:
Mondays: 11 a.m. - Noon and 3 - 5 p.m.
Tuesdays: 10 a.m. - 4:30 p.m.
Thursdays: 11:30 a.m. - 5 p.m.
Fridays: 11 a.m. - 12:30 p.m. and 3 - 5 p.m.
SALUTE
SALUTE was established in 2009 through funding from ACE/Wal-Mart Success for Veterans Grant at Colorado State University. It is the first of its kind that recognizes academic achievement of student veterans in both two- and four-year institutions of higher education. Alfred State started its chapter in fall 2015. For more information on SALUTE, please see their website at http://salute.colostate.edu/home. For information on the Alfred State chapter specifically, please contact Veterans Advisory Board member Melanie Ryan at ryanma@alfredstate.edu.
Veterans Advisory Committee (VAC)
The Veterans Advisory Committee (VAC) consists of members of the Alfred State campus community who are invested in the success of our veteran/military service students. These individuals have been appointed by the President and meet on a bi-weekly basis to uphold and strengthen the services that provide our veterans/military service students. Current members of the Veterans Advisory Committee are:
Co-Chairs:
Members:
Helpful Links
More Veteran Resources