View the Alumni and Friends Magazine online.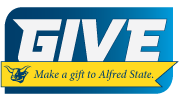 We want to hear about it! Share your news... announcement of a recent wedding or birth, career notes, or retirement update... with classmates and friends. Also keep the Alumni Office informed of changes in your address and phone number so we can continue to share with you.
Update your Class Notes online or contact the Alumni Relations office at (607) 587-3930 or alumni@alfredstate.edu.
Archive of Alumni & Friends Magazine