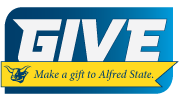 Join or create an Alumni Chapter in your region.
Alumni Relations continues to encourage the development of alumni chapters in regions where a high population of alumni reside. We hope to enhance stronger relationships between alumni, currently enrolled students, and Alfred State.
We recognize our alumni as our most valued and talented resources and encourage alumni participation in helping to shape the institution's future.
Chapter programs provide alumni with an important social, cultural, and educational network. Activities are initiated and organized by local alumni volunteers with the assistance from both the Director of Alumni Relations and the Associate Director of Annual Giving & Alumni Relations.
A chapter arranges and sponsors a wide variety of activities which include, but are not limited to:
Social events
Cultural events
Civic/Service projects
Admissions recruitments & receptions
Athletic events
Networking receptions
As a chapter volunteer, you will help other Alfred State graduates stay connected to the college, keep old friendships going, and create new ones.
If you are interested in becoming a volunteer for an Area Chapter, please submit the Chapter Volunteer Form.