Updated June 20, 2020
Thank you so much to everyone who joined our Virtual Commencement and made it such a success!
Unfortunately, we are not able to host mass gatherings at this time as the campus remains closed to students and visitors. We worked hard to produce a Virtual Commencement that gives everyone the opportunity to celebrate the great achievements of our students. As rules regarding mass gatherings change, we will look for an opportunity in the future to invite all of our 2020 Pioneer graduates back to campus. We'd love to celebrate with you in person and provide you with the opportunity to come together for photos and fellowship.
Check below for the Virtual Commencement Playlist on YouTube, 2020 Commencement Program, Keepsake Photos for Each Graduate, and More Videos of Congratulations.
Virtual Commencement: Saturday, June 20 at 11 a.m.
At our Microsoft Teams Live Event choose "watch on the web" and you will not need to download the software. Upon completion of the event, this link contains a recording of the content as it was presented.
Alfred State's.Virtual Commencement YouTube Playlist allows you to select a certain portion of the event that you would like to see again and you may share it with family and friends.
Virtual Commencement Program (PDF)
Keepsake Photos for Each Graduate
For this Virtual Commencement we've created 1,015 keepsake photos. These are similar to the photographs from a traditional commencement if you had walked across the stage and received your diploma from Dr. Sullivan. These 8" x 10" photos are available for free online through Alfred State's Flickr Album where you may download yours, print it, and share it. Congratulations again to the Class of 2020. You have proven that you are Pioneer Strong!
Additional Messages of Congratulations
Many faculty, staff, and civic leaders want to share their messages with our graduates. We've posted them on Facebook and we encourage more participation as additional people reply to our post and add their videos of congratulations.
Updated May 16, 2020
Dear Graduating Students,
As you know, we surveyed seniors to see what form of a Commencement celebration you wanted for the 2020 class. We had hundreds of responses and a great number of comments that you shared. We appreciate it.
The results show that a Virtual Commencement was selected as the top choice by students.
39% Virtual Commencement
36% Homecoming Commencement
19% No Ceremony Needed
  4% December Commencement
  1% May 2021 Commencement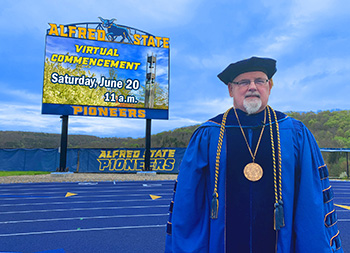 To follow your preference, we will host a Virtual Commencement on Saturday June 20 at 11 a.m. The date was selected to be the Saturday immediately following when final grades will post for our spring courses. This Virtual Commencement will include all the usual elements of the in-person ceremony. We hope by making it available virtually, all students and families may come together online to celebrate. 
Students in Applied Technology, who may still have certain in-person activities remaining in the following months but who have otherwise completed all academic requirements, are also welcome and encouraged to attend.
Graduation Fee: For any students graduating this season and who previously paid the graduation fee, you will be gaining that full amount as a refund. This will come to you as part of the spring student account balance adjustments underway now. 
Delivery of 2020 Tassel, Graduation Cap: While we are refunding your entire graduation fee, we want to provide all graduates with some additional keepsakes to commemorate your monumental achievement. In June, we will be shipping this celebratory package to the home address that you have listed in Banner. If you would like to order additional graduation items or Alfred State gear, please contact the Campus Store. As usual, your actual diploma will be sent in August after all degree requirements are confirmed and it will come with a complimentary diploma cover.
Win a Car: Watch for another announcement soon informing you how graduating seniors may register to win a car courtesy of Educational Foundation of Alfred, Inc. by providing your photo for the virtual ceremony.
In-Person Gathering: As rules regarding mass gatherings change, we will look for an opportunity in the future to invite all of our 2020 Pioneer graduates back to campus. We'd love to celebrate with you in person and provide you with the opportunity to come together and take photos and such. 
You did it! We all want to encourage you and your family to join this Virtual Commencement on Saturday, June 20 at 11 a.m. to recognize the success of so many Pioneers. You are about to become Proud Pioneer alumni. Congratulations!
Dr. Skip Sullivan
President
Campus Store Discount
Congratulations, Graduates. With the code Graduation2020, all students can take 15% off all Alfred State merchandise on the Campus Store website. Campus Spending can be used as payment through May 15. Please visit www.alfredstatebookstore.com/merchandise to get your Alfred State gear.