Updated May 8, 2021
Watch the recorded ceremony on YouTube.
Virtual Commencement: Saturday, May 8 at 12 Noon
Join the Microsoft Teams Live Event online. You may then choose "watch on the web" and there is no need to download the software. The event will begin broadcasting at 11:45 Saturday morning if you would like to test the link and your connection in advance.
Technical Information: To attend this Microsoft Teams Live Event, you may follow the link and view the event in your web browser. If using a mobile device or Safari browser, we recommend that you download the free Microsoft Teams app for the best viewing experience. Microsoft Teams is optimized for best performance on Chrome if you have that browser available. If you have technical questions, please contact Scott Tilley at phone: 607-587-3558 or Kevin Walsh at phone: 607-587-3535.
Our 2021 Commencement will be close-captioned. If an individual needs ASL services, they may contact Melanie Ryan for assistance by Wednesday, May 5 at 4 p.m. via email: ryanma@alfredstate.edu or phone: 607-587-4506.
Virtual Commencement Program (pdf)
Schedule (pdf version)
All times are approximate.
| | |
| --- | --- |
| 12:00 p.m. | Pomp and Circumstance |
| 12:02 p.m. | Grand Marshal – Dr. Aniko Constantine, Distinguished Teaching Professor |
| 12:04 p.m. | National Anthem – Alfred State Voices |
| 12:05 p.m. | Invocation – Desmond Davis, Interim Assistant Director of Diversity Equity & Inclusion |
| 12:07 p.m. | Welcome – Dr. Skip Sullivan, ASC President |
| 12:09 p.m. | Introduction of Candidate for Honorary Doctorate |
| 12:11 p.m. | Doctor of Humane Letters Recipient – Alan Hunt |
| 12:17 p.m. | Orvis Award Winners – Dr. Kristin Poppo, Provost |
| 12:19 p.m. | School of Applied Technology – Jeffrey Stevens |
| 12:20 p.m. | Student Speaker – Courtney DeRusha, Masonry |
| 12:25 p.m. | Candidates for Degrees Recognized, Wellsville Campus |
| 12:36 p.m. | Student Speaker – Patricia Transue, Machine Tool Technology |
| 12:38 p.m. | Candidates for Degrees Recognized, Northland Campus |
| 12:41 p.m. | School of Arts and Sciences – Dr. Kathleen Casey |
| 12:42 p.m. | Student Speaker – Katherine Frascella, Nursing |
| 12:45 p.m. | Candidates for Degrees Recognized |
| 12:55 p.m. | School of Architecture, Management, and Engineering Technology – Dr. John Williams |
| 12:56 p.m. | Student Speaker – Caleb Boyce-Wright, Architecture |
| 12:59 p.m. | Candidates for Degrees Recognized |
| 1:13 p.m. | Conferment of Degrees – Patricia Fogarty, College Council Chair |
| 1:14 p.m. | Induction into Alumni Council – Kandi Geibel, Director of Admissions and Enrollment |
| 1:15 p.m. | Alma Mater – Dr. Earl Packard, Associate Professor and Alfred State Quartet |
| 1:16 p.m. | Concluding Remarks – Dr. Skip Sullivan, ASC President |
| 1:17 p.m. | Drawing for Car Giveaway to a Graduate – Mary Huntington, Former ASC First Lady |
Messages of Congratulations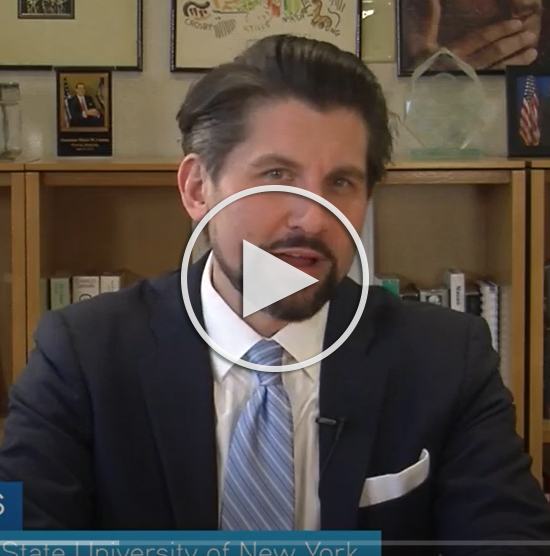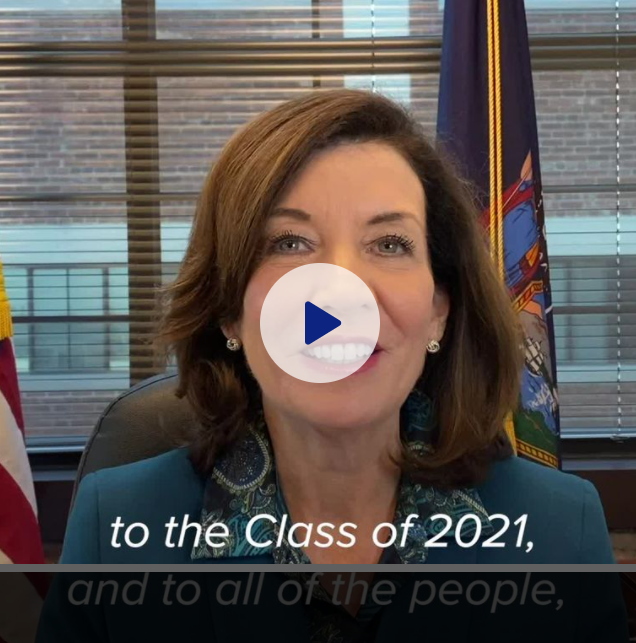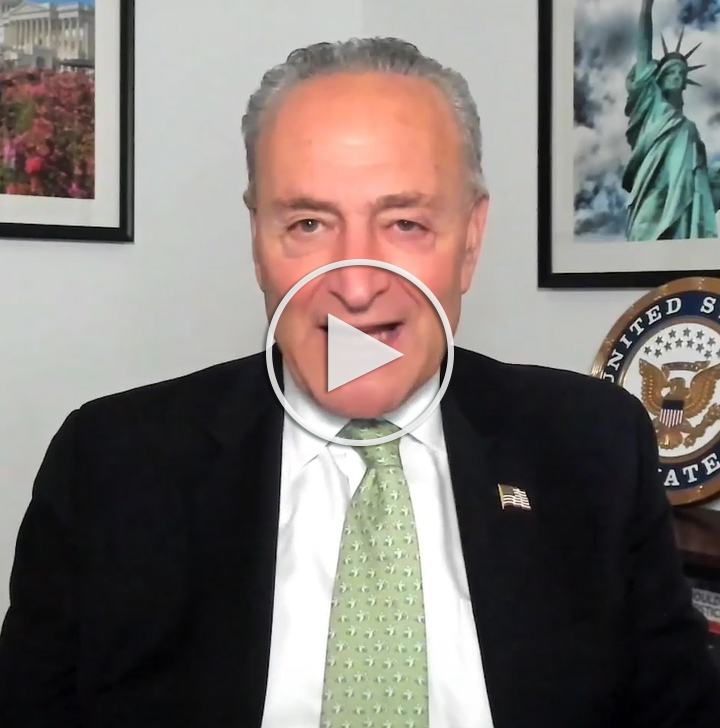 Additional Messages of Congratulations
We've posted messages to our graduates from faculty and staff on Facebook and we encourage more participation as additional people reply to our post and add their videos of congratulations in the comments.
---
Graduating Seniors,
We appreciate the tremendous accomplishment that you are about to achieve as you become a new college graduate! Unfortunately, due to COVID restrictions we will not be able to host a traditional commencement ceremony on campus this year. We are planning some additional activities to provide ways to celebrate and commemorate this significant event. All those graduating this spring or those who graduated in August or December 2020 are welcome to participate.
"Commencement is a major achievement in the lives of our students, and we are so very proud of each of you for reaching this milestone," said Alfred State College President Dr. Skip Sullivan. "I commend each graduate on all of your hard work and the dedication you have shown to your studies, particularly through such a challenging time. While we would prefer to host a traditional in-person commencement ceremony, we feel that the best course of action given the present circumstances is to recognize you in a virtual environment, which will also allow us to safely and responsibly celebrate with friends and family. We thank you for your cooperation and understanding and we look forward to highlighting the success of our Alfred State graduates!"
Virtual Commencement On Saturday, May 8 at 12 Noon
Alfred State will host a virtual commencement ceremony to honor our graduates. Students do not need to remain on campus for this virtual event. Feel free to share the link below with family and friends to watch the ceremony together and celebrate your accomplishment.
Link to watch the ceremony at 12 Noon on May 8
Graduation Fee Lowered for 2021
Without the traditional ceremony, Alfred State has determined that the $60 commencement fee will be reduced to $25. This includes your diploma, diploma cover, 2021 tassel, and participation in the Grad Walks and Virtual Commencement. Students who already paid the $60 commencement fee will be refunded $35 in late spring.
In-person Ceremony
We're excited to offer a chance for you to participate in a separate event we're calling the "Grad Walk" where you will dress in cap and gown, walk the Cappadonia Auditorium stage while your name is announced, and your picture will be taken with President Sullivan. This photo will then be used for the Virtual Commencement on May 8.
The Grad Walks were successfully held April 19-23 and the video may be viewed below:
Grad Walk dates:
Monday, April 19, 7-8 p.m. - Watch video
Tuesday, April 20, 7-8 p.m. - Watch video
Wednesday, April 21, 7-8 p.m. - Watch video
Friday, April 23, 7-8 p.m. - Watch video
Tuesday, April 27, 2-3 p.m. - at Northland campus in Buffalo, NY - Watch video
Candid photos from Alfred Grad Walks on Flickr
Candid photos from Northland Grad Walk on Flickr
Your Photo for Virtual Ceremony
If you participated in the Grad Walk, we will use your regalia photo with President Sullivan taken on stage by professional photographers in the virtual ceremony May 8. There is a commemorative photo available for purchase from the professional photography group. Photos received by April 30 will be included in the virtual ceremony. All graduate names will be included at the end of the ceremony even if you choose not to participate with a photo.
Diploma Covers and Class of 2021 Tassels
Any graduating senior who is participating in Virtual Commencement, but not a grad walk, may pick up the diploma cover and Class of 2021 tassel in Student Records and Financial Services before the end of the semester. If you paid the commencement fee and are unable to pick it up, please contact commencement@alfredstate.edu.
Free Car
Everyone who sends a photo or participates in the Grad Walk is eligible for a drawing of a car that has been detailed by our Automotive team in Wellsville and courtesy of the Educational Foundation of Alfred, Inc.
Ordering Caps and Gowns
If you have not yet ordered a cap and gown or your cap and gown were ordered and have not arrived, please go directly to the Campus Store for assistance. The cost is $24, and bachelor's hoods are an additional $30. Students who have pre-ordered may pick them up at the Campus Store.
Apply to Graduate
If you missed the Feb. 22 deadline for applying to graduate, please contact your academic department.
Pay the Commencement Fee
Please contact the Office of Student Records and Financial Services (SRFS) by emailing SFS@AlfredState.edu, calling 1-800-4-Alfred (option 2), or in person by visiting the Agriculture Science Building on the Alfred campus. The $25 fee will be added at your request to your spring 2021 semester bill. Payment can be made in person at the SRFS office, or by visiting visit my.AlfredState.edu/finances and then following the "Pay Your Bill" link.
Grad Cap Decorating
Bring your cap to the SLC Parkspace April 13, 14, and 15 between 7-8 p.m. - we'll provide the supplies.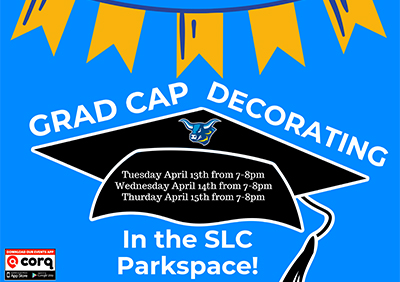 Facebook Profile Frame for Graduates
Share your Pioneer Pride with your Facebook friends by updating your profile picture with our new frame made just for you. To add this, update your profile picture, choose 'add frame,' and search 'Alfred State.' Click on 'Class of 2021' and then 'use as profile picture.'