Virtual orientation is an opportunity to "ensure" your success.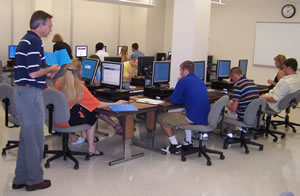 College is very different from the work-a-day world or from high school, and getting started on the right foot is important. Virtual Orientation will offer an informed atmosphere in which to get acclimated and to start your Alfred State career.
Making a rapid transition is important. Your active participation in orientation offers you a head start on meeting key people in your academic area, recognizing the academic requirements of your curriculum, and getting to know the campus and services available. These are big steps on your road to success!
Many students have never been away from home for an extended period of time. Orientation will provide you with the tools you'll need to be prepared and successful, which helps make the transition smoother.
For students attending classes on the Alfred campus (School of Architecture, Management, and Engineering Technology and School of Arts and Sciences), one of the main components of your day will be learning how to access your schedule. 
For students attending classes on the Wellsville campus (School of Applied Technology), you will experience a virtual session on the Wellsville campus with the academic dean and Student Affairs personnel. In addition, you will have the opportunity to discuss tool needs and learn about access to tool vendors. Before you complete the day, you will also receive access to your fall class schedule.
A special note to transfer students: Not all colleges are the same. Orientation will help you to become familiar with Alfred State's people and procedures. Please make sure that all appropriate transcripts are provided at least one week in advance so that you may complete orientation with your complete fall semester schedule.
See you soon!
Contact Us
Office of Student Engagement
Student Leadership Center, Suite 204
10 Upper College Drive
Alfred, NY 14802
Phone: 607-587-3114 OR
1-800-4-ALFRED
Email: orientation@alfredstate.edu


@ASorientation
Add ASOrientation on Snapchat