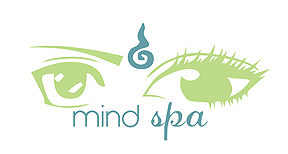 Achieving and maintaining the right balance in life is the key to living productively and successfully. This is why the Health and Wellness Center at TA Parish Hall created The MindSpa.
This unique oasis was designed to be a quiet place for students to experience and explore on their own. Students may wish to bring a friend to share the experience but are welcome on their own. Students will be able to indulge their senses, clear their minds, or simply relax and unwind while using The MindSpa.
The MindSpa has an array of meditation and relaxation activities to choose from. Come and relax with a cup of tea (green, chai, chamomile, black) and explore all The MindSpa has to offer. To schedule an appointment, call ext. 4200. Sessions are 30 or 60 minutes long. Walk-ins are welcome on a 'first come, first-served' basis.
Features
The MindSpa Chair – This fully reclining, full body massage chair has four different massage modes (kneading, tapping, Shiatsu, and a tap and kneading combination), 16 airbags that inflate to create compression around the lower body, and a built in MP3 player. The chair is available for use in 20 minute sessions.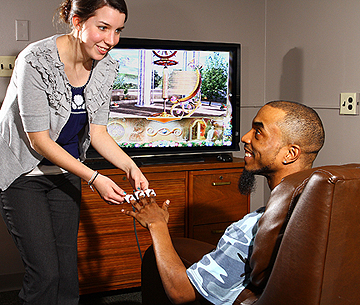 Wild Divine – This unique technology allows individuals to monitor physiological functions which indicate high levels of stress, such as rapid breath and increased heart rate. Biofeedback can help students exercise control over their emotions through the use of interactive software and relaxation videos. A state of the art IOM finger sensor monitors even the most subtle signs of relaxation, thus helping individuals learn valuable calming techniques and improve overall health.
Multi-Spectrum Lamp – Research has shown that light therapy is an effective treatment for Seasonal Affective Disorder (SAD), or "the winter blues." As the amount of natural sunlight waxes and wanes throughout the year, students may notice an increase in depression or lethargy. The MindSpa offers individuals a private space to utilize this treatment in conjunction with other services offered. The multi-spectrum lamp can increase energy and foster a positive mood, even on the darkest of days!
Audio Library – The MindSpa has a growing and continually-updated audio library that contains some of the most inspiriting and influential meditative guides available today. Titles in the library include:
Guided Meditations for Difficult Times: A Lamp in the Darkness by Jack Kornfield
Works of Deepak Chopra by Deepak Chopra
Breathing: The Master Key to Self-Healing by Andrew Weil, M.D.
Music for Healing Mind, Body, and Spirit by Steven Halpern
Ahanu Tibetan Singing Bowls for Relaxation and Meditation
Guided Meditations for Stress Reduction by Bodhipaksa
Your Breathing Easy: Meditation and Breathing Techniques to Help You Relax, Refresh, and Revitalize by Michael F. Roizen M.D. and Mehmet C. Oz M.D.
Your Present: A Half Hour of Peace by Susie Mantell
Songbird Sunrise and Thunderstorm with Alpha Brainwave Pulses by Dr. Jeffery Thompson
Aromatherapy – This form of alternative medicine uses organic plant materials, known as essential oils, and other aromatic compounds to help positively alter one's mood, cognitive function, and overall health. Students are encouraged to experiment with aromatherapy at The MindSpa, and learn how essential oils can help one relax and rejuvenate.