At a glance
BuildingPoint Northeast, Keystone Precision, and Alfred State College celebrated a new partnership recently. The partnership provides high-tech equipment and training for students in the School of Architecture, Management, and Engineering Technology (SAMET).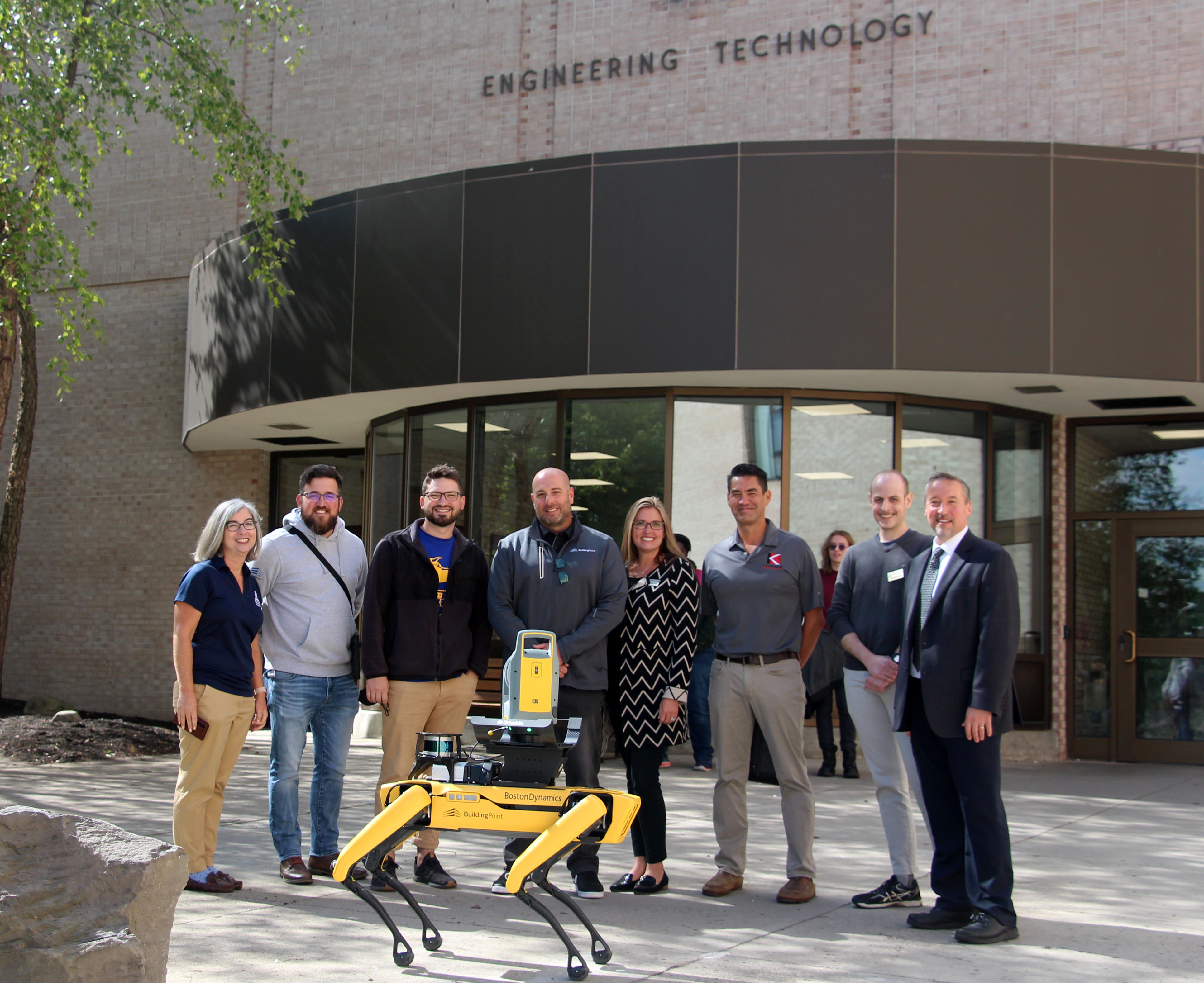 BuildingPoint Northeast, Keystone Precision, and Alfred State College celebrated a new partnership recently. The partnership provides high-tech equipment and training for students in the School of Architecture, Management, and Engineering Technology (SAMET).
Steve Montgomery '94, CEO of BuildingPoint Northeast, George Allport Jr., President of Keystone Precision, Kenneth Fronheiser, Director of Strategic Integration and Technology at Keystone, and Mark Calvi, Certified Trainer of Trimble Field Solutions visited campus, spoke with current students, and demonstrated some of the latest technology.
"I have always felt that I could give back to the college," stated Montgomery. "After years of witnessing technology changing how the industry works, I thought the timing was right to engage with Alfred's leadership to explore partnership opportunities. We are in a time where skilled labor is becoming harder to find, and construction firms are trying to keep up with the growth of technology. The timing is perfect to introduce to and educate students on technology. I want to get Trimble's industry-leading technology into the Alfred curriculum and have a hand in preparing tomorrow's workforce with the knowledge to be successful. I hear companies all over the country say that they want to use technology, but they do not have the right people to do so. That reinforces in my mind that we need to teach college kids this technology. Today, I am excited to see this vision in partnership with Alfred State come to fruition."
The quartet demonstrated two pieces of equipment to students in wide variety of majors within SAMET. The group also field questions from the students and faculty.
A Trimble SX10, that through this partnership will be purchased to allow current and future students at Alfred State to learn on this state-of-the art equipment (Learn more about the SX10). Along with the SX10, the college has a Trimble T100 tablet which brings the advantages of fast computing power and a large screen to the field. The Trimble Business Center with a Scanning Module was also donated.
Spot the robotic dog, a Boston Dynamics product, with a Trimble X7 Laser Scanner was also showcased (Read more about Spot). Spot climbed the stairs of the lecture hall within the Engineering Building and scanned and measured the room in minutes.
"Our new Training and Innovation Partnership with BuildingPoint Northeast and Keystone Precision Solutions is an alliance that will have a profound impact on many students across several programs," commented Dean of SAMET John Williams. "Students and faculty will now have access to the latest surveying and 3-D scanning technology, and we look forward to integrating the equipment into our laboratories and projects. Our industry partners will also work with everyone to provide training, informational sessions, and support. This relationship is game changing and will create several benefits for all."
Allport agreed with Montgomery and Williams on the importance of the collaboration. "At Keystone Precision Solutions, collaborating is at the core of what we do. From the earliest conversations with Dean Williams, it was clear that we were aligned with Alfred State when it came to exposing advanced technology and creating industry leaders of tomorrow through collaboration. Partnering with Alfred State by providing access to the latest technology and the industry experts who can help the students understand the real-world utilization of the technology is one of the most exciting initiatives that we have undertaken in the last several years. We cannot wait to see where this partnership goes."
Executive Director of Institutional Advancement Danielle White knows partnerships like this have profound impact on the college. ""Industry and college partnerships are so important. Partnerships with companies like BuildingPoint and Keystone Precision, allow for enhanced exposure to state-of-the-art equipment and training that would not be possible due to limitations of the college. This unique exposure will set our graduates apart from others and will put them in high demand from employers upon graduation. Employers will get highly skilled, ready to work employees that lead the company through technology changes, increase their efficiencies and provide additional services that others cannot. It will give the company a competitive advantage."
"Steve is a prime example of a successful alum who understands the importance of giving back and making an impact and changing the lives of future Pioneers."
The demonstration to current students and faculty is the beginning of the partnership between the two companies and Alfred State. The companies will provide instruction to the students, faculty and staff on how to use the Trimble SX10 and the equipment will be used in the hands-on education of current and future students.
Steve Montgomery Bio
Steve Montgomery is an entrepreneur passionate about solving problems through technology in the architecture, engineering, and construction industries. He is a native of the Canisteo Valley in the Southern Tier of New York and an alum of Alfred State College, where he studied Architectural Engineering. Post-college, Steve relocated to the Baltimore, MD, area, where he held various roles in commercial construction before turning his sights on technology for the sector. Over the past 20 years, he has supported companies worldwide in adopting various solutions, including project management, estimating, workforce management, and measuring, to name a few. Steve also feels very strongly about the continuous education of "tomorrow's workforce." He will never shy away from the opportunity to speak to this audience about the exciting careers that exist in the AEC space. Steve, his wife Kellie, daughters Ella and Abby, and dog Piper are active residents of Forest Hill, MD, where they enjoy spending time with friends and family.
About BuildingPoint Northeast
Founded in 2016, BuildingPoint Northeast is built upon the concept that great people do great work. As a result of this belief, we have grown throughout the North East to bring these comprehensive and creative solutions to the building construction industry. With headquarters just north of Baltimore City in Maryland, and team members throughout the region, BuildingPoint is perfectly aligned to provide the service and support contractors would expect from the Trimble distribution family. Discover your solution at www.buildingpointne.com
George Allport Bio
George Allport is an entrepreneur who is involved in the ownership of several Northeastern US regional businesses that are headquartered in the Lehigh Valley. These include Keystone Precision Solutions, KeyNET GPS and BuildingPoint Northeast, all focused on serving the engineering, surveying, and construction sectors by providing leading-edge technology and consulting. George has encouraged his employees to become engaged and active members of their communities through Employee Directed Philanthropy and "Volunteering" Paid Time Off programs. Although born in the Lehigh Valley, George was a military "brat" who spent a large portion of his youth in Latin America. George and his family returned to the Lehigh Valley 16 years ago, where they have established deep community roots. George is a graduate of Muhlenberg College and the Erivan K. Haub School of Business at Saint Joseph's University where he earned a Master's in Business Administration. George, his wife, his five children and their ever-present three Labrador Retrievers are residents of Emmaus, PA, and enjoy a wide range of outdoor activities.
About Keystone Precision Solutions
Headquartered in Allentown, PA, Keystone Precision Solutions is the premier survey, construction, and engineering consultant, survey equipment provider, integrator, and specialist across the eastern United States for more than 30 years. We offer solutions that increase our customer's workflow, productivity, and profitability. Find your solutions at keypre.com.