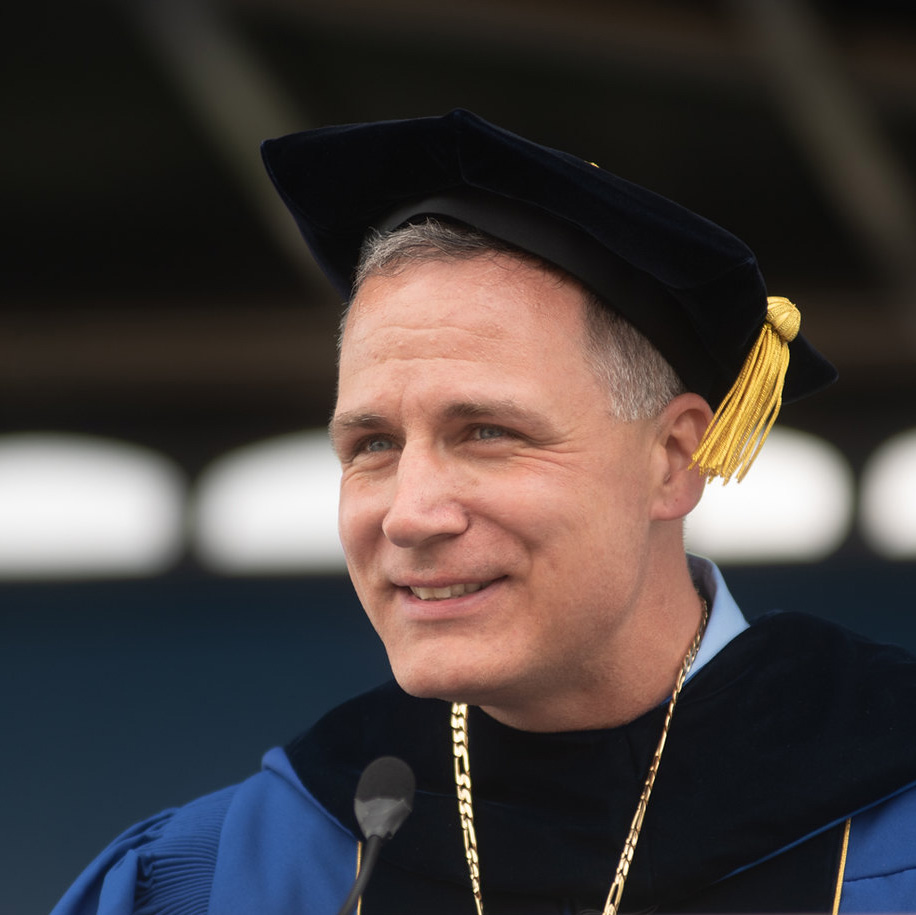 The inauguration of Steven Mauro, PhD, as the thirteenth president of Alfred State College (ASC) will take place on Thursday, Oct. 20, at 2 p.m. in the Orvis Activities Center.
Mauro announced that his theme for the inauguration festivities is Pioneer Pride, Purpose, and Promise to celebrate the past, the college's mission, and the promising future and potential of ASC moving forward. The official investiture ceremony in the gymnasium will be followed by a "Pioneer Walk" for guests to experience the campus alive with students, faculty, staff, and community members showcasing many aspects of both living and learning at Alfred State. 
This route will end at the Student Leadership Center for the reception where invitees will enjoy "A Taste of Western New York." Auxiliary Campus Enterprises and Service (ACES) is enlisting the creative talents of Alfred State Culinary Arts students for creating the menu that highlights some of the area's favorites but with a modern twist. The reception will also feature fresh ingredients from local farms. Inaugural guests are welcome to then stay for the annual Homecoming and Family Weekend Oct. 21 – 23.
Alfred State President Dr. Steven Mauro stated, "inauguration is a celebration of not only one individual, but the entire college community and all that we represent. A strong dedication to students and quality education is precisely why I believe Alfred State College is the perfect home for me.
"As a SUNY alumnus myself, who believes in the promise of higher education, my work is to continue the great success already found at ASC and to build on that momentum working with faculty, staff, students, parents, alumni, and the community."
College Council Chair Pat Fogarty adds, "together, with the entire Alfred State College community, I look forward to the inauguration of Dr. Steven Mauro with a real sense of accomplishment and pride. 
"Dr. Mauro came to us after a nationwide search for the college's thirteenth president. He brings with him an outstanding record of academic and administrative accomplishments. In inaugurating Dr. Mauro, we are also recognizing the history and tremendous potential for the future of ASC."  
Inauguration Theme
Dr. Mauro began his tenure by meeting as many members of the Alfred State community as possible to talk about what makes ASC great and with an open ear for what can be improved for the future. This resulted in an inspirational theme for recognizing the great past, productive mission, and exciting future ahead for Alfred State College.
Pioneer Pride: An inspirational legacy
Pioneer Purpose: Amazing student success.
Pioneer Promise: Momentum for the future.
Pioneer Pride is all about legacy and success over the years. Before SUNY was formed, in 1908 the state legislature established the New York State School of Agriculture later named the Agricultural and Technical College at Alfred. With decades of growth and the addition of four-year degrees, Alfred Ag and Tech became known as Alfred State College to reflect the increasing variety of degrees offered.
After starting as a single department at Alfred University (AU), President Boothe C. Davis led oxen for a parade through the farm celebrating the state college's founding. The school was first led by Dr. Ora Sherman Morgan who served as director until 1911. To start the school, $75,000 in state funds were allocated for three buildings including a primary barn, livestock quarters, and machinery storage. 
By 2018, some 110 years later, Alfred State Pioneers added an ox mascot in tribute to the college's agricultural roots. Alumni, students, faculty, and staff take pride in all that Alfred State offers and the positive economic impact throughout Western New York. ASC has a winning combination with student life providing a vibrant college experience and student learning to prepare for a new career.
Pioneer Purpose highlights the college's laser focus on student success. ASC is known for delivering graduates who are ready for the working world as we help build America's workforce. Dozens of majors have more employers ready to hire than there are graduates. A tremendous 98% of ASC graduates secure jobs in six months or continue education. Alfred State truly helps graduates Hit the Ground Running…
Alfred State's faculty love what they do and make excellent mentors, advisors, confidants, friends, and role models. ASC faculty are skilled, hands-on experts who bring learning to life through their experience. Alfred State relies on input from alumni and employers to know what is needed on the job, so students are ready for work from day one. 
Students at ASC learn the skills needed with tools and software just like professional's use. Alfred State was the first SUNY institution to include applied learning in every major so that students will quickly launch careers working for a good company or choose to become an entrepreneur. The campus has an amazing 200+ labs and hands-on experiences to help students become ready for what's next.
Pioneer Promise recognizes the ever-increasing economic impact that the college has on Western New York and points beyond. The college's focus on providing students with skills to launch their careers equates to an economic boost for the region's communities and for employers eager to hire. Students are attracted to a high-quality education at an affordable cost that leads to good-paying careers.
Located near the center of population for the US Northeast, students from across several states find Alfred to be an idyllic college town that is scenic and away from it all, but at the same time a convenient option. The tight-knit and caring community has a 16:1 student-to-faculty ratio. So, ASC is small but has big opportunities with 80 majors, amazing outdoor recreation, and NCAA Division III athletics.
ASC has generations of Pioneers to thank for being well-positioned into the future. The Alfred State community volunteers for public service and adds to the economic vitality of the region. The future is nearly endless by empowering faculty, energizing students, engaging parents and alumni, while working in harmony with the surrounding communities to promote Pioneer Pride, Purpose, and Promise.
More information is available online at AlfredState.edu/Inauguration.