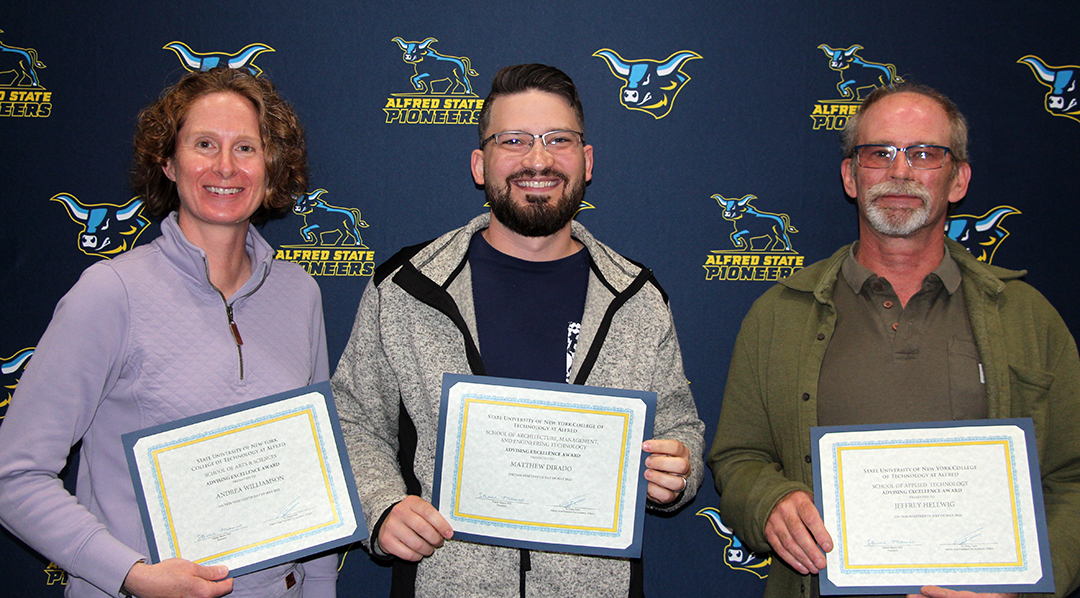 Matt DiRado, Jeff Hellwig, and Andrea Williamson were named the recipients of the Advising Excellence award at Alfred State's annual Recognition Celebration.
Given annually, the Advising Excellence award recognizes Alfred State college faculty advisors who have gone above and beyond to positively impact a student's college experience. Students nominated the honorees and a professor from each of the college's three schools were honored.
DiRado, an assistant professor in the architecture and design program, is credited for being passionate about what he does, for always being available for meetings with students, and for being quick to respond to concerns with scheduling and in the classroom. His students find him to be caring and a positive influence not only in the classroom but in their personal lives.
Hellwig, an associate professor in the electrical, machine tool, and welding technology program, is credited for his incredible wisdom and knowledge and for helping students get ready for anything in their professional career. The students notice that he goes above and beyond and helps them get prepared for career fairs.
Williamson, an assistant professor in the veterinary technology program, is credited by her students for going above and beyond to help them succeed. For being supportive and always being willing to take time to answer questions about classes and career. Students also noted Williamson for being a determined professor that helps students perform to the best of their ability.