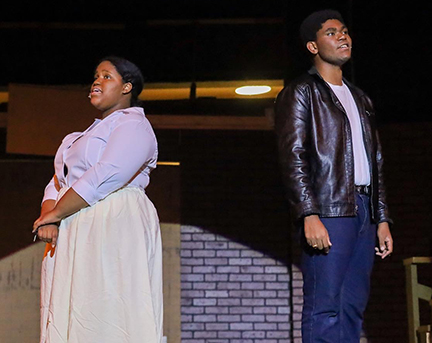 The Cappadonia Auditorium stage will feature your favorite students from Rydell High as the Alfred State College (ASC) drama club presents "Grease: The Musical." Four shows will be performed between Nov. 18-20.
Tickets are $2 for students and $7 for general admission. Purchase tickets in advance at the Campus Store in the Student Leadership Center or by calling 607-587-4020. Tickets will be available at the door as well. There will be nightly performances at 7 p.m. and a special matinee on Saturday (Nov. 20) at 2 p.m.
"Grease: The Musical" features Rydell High's spirited class of '59. Gum-chewing, hub-cap-stealing, hotrod-loving boys with D.A.s and leatherjackets and their wisecracking girls in teased curls, bobby sox, and pedal pushers. Grease captures the look and sound of the 1950s in a rollicking musical that salutes the rock 'n' roll era. While hip Danny Zuke and wholesome Sandy Dumbrowski resolve the problems of their mutual attraction for each other, the gang sings and dances its way through such nostalgic scenes as the pajama party, the prom, the burger palace, and the drive-in movie.
Doors open one hour before each show and there will light concessions available with proceeds donated to the Mary Cariola's Children Center.
Book, Music, & Lyrics by Jim Jacobs & Warren Casey. Additional music included by writers: John Farrar, Scott Simon, and Louis St. Louis.