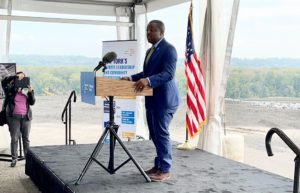 New York State Lt. Gov. Brian Benjamin announced a project that will bring hundreds of jobs to Wellsville with a reportedly $200 million investment.
The Wellsville Sun has learned a contract was awarded to Ljungstrom Arvos Custom Manufacturing Solutions of Wellsville (the former Air Preheater) for an offshore windmill project. The state (NYSERDA) awarded the contract to Equinor Wind US LLC for its 816-megawatt Empire Wind Project and Sunrise Wind LLC (a joint venture of Ørsted A/S and Eversource Energy) for its "880-megawatt Sunrise Wind Project to deliver clean, affordable, renewable energy to New Yorkers."
"I see this as being very long term because they just entered into the agreement with Alfred State that Sen. Schumer got involved in to train welders," Wellsville Mayor Randy Shayler said. "They are looking to train a workforce and get them specifically trained for their product line."
Read the full story in the Wellsville Sun.