Alfred State College (ASC) 2021 graduate Damian Cole recently became the proud owner of both a degree and a new car after his name was randomly selected in a drawing for a 2016 Chevy Cruze Limited.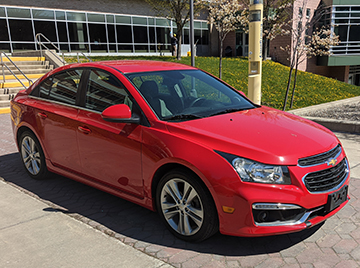 Cole, a welding technology grad from Endicott, was one of many graduates whose name was entered for the vehicle, which was being given away at this year's commencement ceremony. Due to COVID restrictions, the ceremony took place online as a Microsoft Teams Live event.
Graduates who submitted a photo of themselves for the ceremony or participated in one of the Alfred State Grad Walk events were eligible for the drawing of the car. Once the names and photos were all collected near the end of April, former Alfred State First Lady Mary Huntington then selected a winner, which was later announced at the conclusion of the online commencement ceremony.
Cole became the seventh Alfred State graduate to win a car at commencement. The annual giveaway began in 2015 to add to the graduation celebrations at ASC. The car is a gift from the Educational Foundation of Alfred, Inc.
To inform Cole that he had won, Alfred State President Dr. Skip Sullivan surprised him at the end of one of his classes on Friday, April 30.
When asked how felt to win a car at commencement, Cole said, "It feels pretty sweet, considering I thought I was in trouble at first. I don't know if I'll be able to weld now. I'm excited."
Also on hand to congratulate Cole were State Sen. George Borrello and Assemblyman Joseph Giglio, who happened to be on the Wellsville campus that day for another event.
View the moment when Cole found out he had won the car.