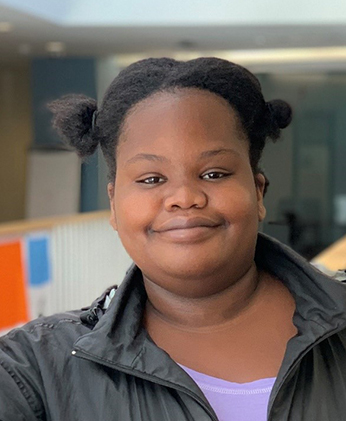 Alfred State College (ASC) is proud to announce that Curlicia Smith, a digital media and animation major from Bronx, is among the 45 students in SUNY's Educational Opportunity Program (EOP) who have recently been honored with the Norman R. McConney, Jr. Award for Student Excellence.
The award, now in its second year, recognizes outstanding EOP students for their academic excellence and strength in overcoming significant personal obstacles throughout their lives.
The honor is named in memory of Norman R. McConney, Jr., a graduate of the University at Albany and former assistant dean for special programs at SUNY. McConney, alongside former Assembly Deputy Speaker Arthur O. Eve, helped create the EOP as a statewide program that has served 75,000 New Yorkers to date from underprivileged backgrounds.
Alfred State President Dr. Skip Sullivan said, "We are very proud of Curlicia for earning the Norman R. McConney, Jr. Award for Student Excellence. This honor is a testament to the hard work, dedication, and perseverance she has shown in her academic career at Alfred State, and we congratulate her on her continued success at ASC in the Educational Opportunity Program."
Alfred State Coordinator of Opportunity Programs Cyan Corwine said the Norman R. McConney, Jr. Award for EOP Excellence is special because it allows the college to recognize their incredible students, not just for their academic integrity, but for their grit, determination, resilience, and effort.
"While we are fortunate to have many wonderful students in our EOP family at Alfred State, we were so proud to nominate Curlicia Smith for this prestigious award and overjoyed when she was selected as a recipient," Corwine said. "Curlicia is a resilient and dedicated student with a heart of gold and it was our absolute privilege to see her receive SUNY-wide recognition for all her efforts."
Alfred State Director of Online Learning Danyelle O'Brien, who has supervised Curlicia as a student employee for the past couple of years, said, "Curlicia has been a wonderful member of our team in the Center for Online Learning during her time at Alfred State. She is always willing to learn and help others. Curlicia is dedicated to her academics and truly enjoys being creative. Seeing her artwork brings a smile to our faces just as she does. Curlicia has worked so hard during her time at Alfred State and has overcome challenges and hardship. It is wonderful that her perseverance is recognized in receiving the Norman R. McConney, Jr. Award."
Award recipients were honored in a virtual ceremony, with The Honorable Victor Pichardo, a member of the New York State Assembly, providing the keynote address. Also providing remarks were SUNY Chancellor Dr. Jim Malatras, SUNY Trustee Camille Varlack, Senior Advisor to the Chancellor and Student Advocate Dr. John Graham, alumni speaker Ayuong Arop (SUNY Polytechnic Institute), and student speaker Aesron Jeremiah (SUNY Farmingdale).
Since its inception in 1967, the EOP has provided access, academic support, and supplemental financial assistance to students from disadvantaged backgrounds, many of them the first in their families to attend college. In its 53-year history, the EOP has served more than 75,000 students and evolved into one of the country's most successful college access programs.