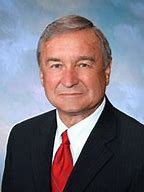 The New York State Governor's Office has recently appointed John E. Benjamin, of Horseheads, to the Alfred State College Council.
Council members serve without salary as an advisory group to the president of the college. Authority of the Council is in such areas as regulations governing student conduct, regulations concerning care and management of campus facilities, review of academic programs, approval of candidates for college degrees, and selection of the college president.
Benjamin is a retired president of the Three Rivers Development Corporation, a private-sector vehicle for economic development in the Finger Lakes Region, which he worked for from 1973 to 2015. As president, he was responsible for project planning and the financial stability of the corporation.
Over the years, Benjamin has been very involved in his community. He currently serves as chairman of the board at Guthrie Corning Hospital and as vice chairman of Bethany Village. Other groups and organizations that he has served include the LPGA Corning Classic, LPGA Tournament Owners Association, the Southeast Steuben United Way, Excellus Blue Cross/Blue Shield, the New York State Economic Development Council, and Five Star Bank.
Benjamin holds an associate degree in civil technology from Alfred State, bachelor's degrees in economics and geography from SUNY Brockport, and a master's in professional studies from Alfred University. He and his wife, Susanne, reside in Horseheads and are the parents of three children, all grown – Kelly, Mark, and Jeff.