In the coming months, the Center for Community Education and Training (CCET) will provide several professional and certification courses for both current law enforcement officers and students in support of the new Alfred State Police Academy.
"The Center for Community Education and Training offers many programs throughout the year that support many facets of Alfred State College, and serve to educate the community," said Wendy Dresser-Recktenwald, senior director for the Alfred State Office of Human Resources and CCET. "These new police trainings are yet another example of the valuable programming that CCET provides, and will complement our new police academy."
Gregory Sammons, vice president for Student Affairs, said, "Alfred State College is committed to providing ample training opportunities to current and future law enforcement officers. These upcoming events will further participants' professional development in several specific areas, all leading up to the launch of our new police academy."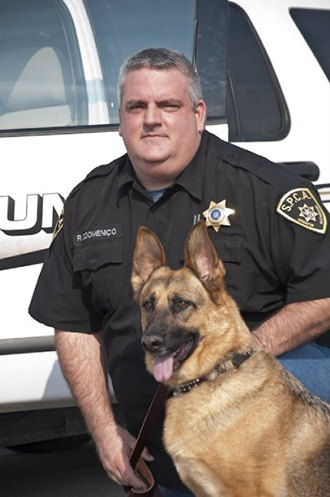 The first event, titled "Animal Crimes Investigation for Law Enforcement," will take place from 8-11 a.m. Wednesday, Aug. 8 at the Lake Lodge. Led by Investigator Reno Di Domenico, director of law enforcement at the Humane Society of Greater Rochester, this lecture will help the first-line officer understand more about making an animal crimes arrest.
Participants will learn where to look for evidence and find resources to secure a successful arrest and prosecution. Topics will include history of animal crimes, what the officer's role is, Article 26 of the New York State Agriculture and Market Law, and companion and livestock investigation. The cost of the lecture is $25.
The next event, titled "The Bulletproof Mind Seminar for the Law Enforcement Community," will be held from 8 a.m. to 4 p.m. Oct. 24 in the Orvis Activities Center Auditorium on campus. The speaker will be Lt. Col. Dave Grossman, who, since retiring from the US Army in 1998, has been on the road almost 300 days a year for more than 19 years as one of the nation's leading trainers for military, law enforcement, mental health providers, and school safety organizations.
Grossman has helped train mental health professionals after the Jonesboro school massacre, and was also involved in counseling or court cases in the aftermath of the Paducah, Springfield, Littleton, and Nickel Mines Amish school massacres. He has five patents to his name, has published four novels, two children's books, and six non-fiction books, including his perennial bestseller "On Killing," and a New York Times best-selling book co-authored with Glenn Beck.
Subjects covered will include the consequences of denying and ignoring violence in society; school violence and the simple steps needed to deter the threat; violence in video games and its effect on children; the duty and responsibility for everyone to ensure the safety of schools, workplaces, public transit, etc.; and more.
The cost of the Bulletproof Mind Seminar is $80, which will cover refreshments but not lunch.
These two events will be the first in a series of trainings leading up to the Alfred State Police Academy's inaugural Basic Course for Police Officers launching in May 2019. The academy will serve recruits in both pre-employment (Phase I) and employed (Phase II) stages. Graduates will earn either the Pre-Employment Certificate (Phase I) or the Basic Course for Police Officers Certificate (Phase II).
Academy participants in the Basic Course will gain knowledge and expertise in New York State laws, investigations, defensive tactics, emergency services and management, emergency vehicle operations, and many more topics as outlined by the New York State curriculum. Other courses offered will include instructor certifications and emerging topics of interest to the regional law enforcement community.
The operation of the academy will complement Alfred State's Associate in Science (AS) and Bachelor of Science (BS) degrees in criminal justice by providing students the opportunity to complete their degree in the same location where they complete their police training curriculum.
For more information or to register for the events, please contact CCET at 607-587-4015 or CCET@alfredstate.edu.