Whether launching a career in their field or furthering their education at a higher level, Alfred State College (ASC) graduates continue to be ready for that next step after graduation.
As a result, the employment and continuing education rate among Alfred State graduates has reached 99 percent for the 10th consecutive year. A survey of 2018 grads determined that 99 percent of respondents have either secured employment after earning their degree from Alfred State or are continuing their education for another degree.
Of those 99 percent, 78 percent are employed, while 21 percent are pursuing advanced degrees. Of the 78 percent who have a job, 93 percent of them are employed in their chosen field.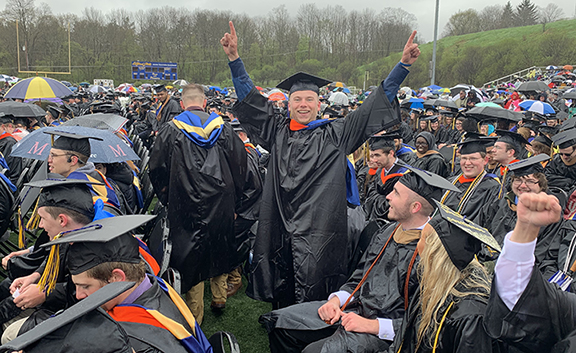 Elaine Morsman, director of the Career Development Center at Alfred State, said the fact that Alfred State consistently achieves a 99 percent rate every year can be partly attributed to the quality of the college's programs and the demand in various industries.
"I have had employers tell me, 'I only recruit at your school,' and 'I hired someone last year and they're working out great, now I need more' or 'I would hire the whole class,'" Morsman said. "We have so many jobs that are never filled because we simply don't have enough grads to fill them."
Dr. Skip Sullivan, president of Alfred State, said, "The fact that Alfred State has achieved a 99 percent employment and continuing education rate for 10 straight years is a testament to our excellent faculty and staff, and reaffirms the value of our hands-on, real-world learning approach to education. Alfred State Pioneers are well prepared to 'hit the ground running.'"
Morsman agrees that Alfred State employees play a big role in the college achieving a 99 percent rate each year. She noted that her office enjoys a collaborative relationship with the faculty, which is something that sets ASC apart from other colleges.
"The Career Development Center has an outstanding relationship with our faculty," Morsman said. "They truly value the importance of career development. I believe because we work together as a team with faculty, we have built a great system of connecting students with employers. In fact, with the help of our faculty, we have recently reached 6,000-plus employers in our JobLink database."