Alfred State College recently honored Susan Gorman, a lecturer in the Business Department, with the Leadership through Civic Engagement Award.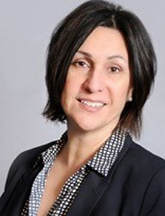 The award is presented annually by the College Council to acknowledge students, faculty, staff, and alumni who have led or initiated exemplary academic and/or co-curricular initiatives that demonstrate a commitment to engaging in the community – locally, nationally, or globally – through service, volunteerism, activism, politics, and much more.
A few years back, Gorman created an applied learning experience for her strategic marketing students, allowing them to apply their education to local businesses. Students create a real marketing plan for these companies to assist with increasing their business efforts in their local region. This effort is the epitome of how applied learning and civic engagement can be interconnected to provide both an educational opportunity for students and a service to the local community.
Gorman also expanded the project beyond the marketing plan to incorporate curricula outside the department. In collaboration with the Computer and Information Technology Department, these local businesses are not only afforded a marketing plan, but are thereafter provided with web design expertise.