From scholarships, to programs, to athletics, and more, so much is made possible at Alfred State College thanks to donations.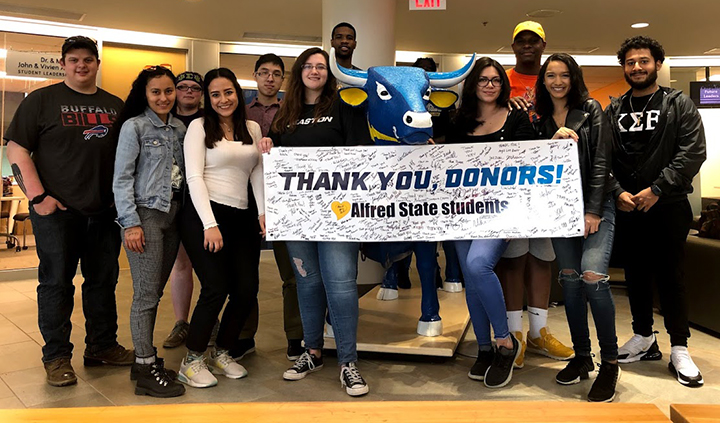 As a way to recognize its numerous donors and shed some light on the many things that have resulted from their generosity, Alfred State recently held TAG (Thank A Giver) Day on campus.
According to Kaitlyn Carhart, associate director of Annual Giving and Alumni Relations, a number of tags were placed at various locations throughout campus to show passersby the different ways in which donors' dollars have been used, from a memorial bench, to the Bethesda Foundation Imaging Suite, to the Thomas M. Blackwell Forensics Lab.
"We also had a student, Jordon Comrie, of the Students Today, Alumni Tomorrow Club take over our social media accounts and talk about the tags that were in place to show the large presence of donor dollars," Carhart said.
Additionally, Carhart noted, the Office of Institutional Advancement set up a table in the Student Leadership Center to educate students and employees about TAG Day, and to encourage them to sign a banner to "show our donors how much we appreciate them." Also, scholarship recipients were contacted prior to TAG Day and asked to wear a tag on their backpacks showing that they too have been impacted by donor dollars.
"Overall, the day was a giant success," Carhart said. "Having the visual representation on campus of how many physical locations and pieces of equipment are here thanks to donors was such a great educational piece for our students and faculty and staff. Hearing students stop by the table in the SLC and mention that they saw this on social media and wanted to stop was fantastic! I feel as though we truly got the message across."