Campus Compact, a Boston-based non-profit organization working to advance the public purposes of higher education, has announced the 262 students who will make up the organization's 2019-2020 cohort of Newman Civic Fellows, including Alfred State College's own Riko Hayano.
An interdisciplinary studies major from Osaka, Japan, Hayano is a highly respected student leader committed to enriching the community and promoting growth through shared experience. Hayano provides intercultural programming for inbound and outbound international students, supporting programs such as the CommUnity Potlucks and International 101. These initiatives enable students and staff to come together to learn and teach one another.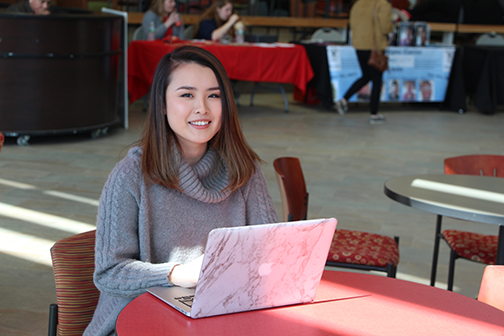 Additionally, Hayano played a part in re-launching WILD (Women Inspiring Leadership Development), and serves as liaison between students and the Center for Intercultural Unity, advocating for underrepresented students. She also serves as a diversity RA, creating programming for her residence hall and the entire campus around issues of diversity and inclusion.
Hayano seeks to foster dialogue and programming around intersections of identity, share her experiences, and get students involved. As Dr. Skip Sullivan, Alfred State president, said in his recommendation letter, "She is a true community builder at heart."
Nikkie Herman, chief diversity officer and title IX coordinator in the Center for Intercultural Unity at Alfred State, said, "I am so proud of Riko for being selected as the Newman Civic Fellow this year. She exemplifies unity, inclusion, and passion for social justice and civic engagement. Our campus is grateful for all of the work that she does, and will continue to do next year with her fellowship."
Hayano noted that she genuinely loves helping others.
"I believe that my purpose of being in Alfred is to help, and by helping, I mean motivating/empowering others and to form a unity together to be better individuals as a whole," she said.
The Newman Civic Fellowship, named for Campus Compact co-founder Frank Newman, is a one-year experience emphasizing personal, professional, and civic growth for students who have demonstrated a capacity for leadership and an investment in solving public problems. Through the fellowship, Campus Compact provides a variety of learning and networking opportunities, including a national conference of Newman Civic Fellows in partnership with the Edward M. Kennedy Institute for the United States Senate. The fellowship also provides fellows with access to apply for exclusive scholarship and post-graduate opportunities.
"We are proud to recognize each of these extraordinary student leaders and thrilled to have the opportunity to engage with them," said Campus Compact President Andrew Seligsohn. "The stories of this year's Newman Civic Fellows make clear that they are committed to finding solutions to pressing problems in their communities and beyond. That is what Campus Compact is about, and it's what our country and our world desperately need."
The Newman Civic Fellowship is supported by the KPMG Foundation and Newman's Own Foundation. Learn more at compact.org/newman-civic-fellowship.