Alfred State's Center for Intercultural Unity is pleased to host a unique exploration of indigenous culture from 12:30-2 p.m. Thursday, March 28 in the Orvis Activities Center's Cappadonia Auditorium.
The event will include a photography exhibition, as well as a panel discussion about connecting with the past, identity politics, and representation of Native Americans. Dr. Joe Stahlman and Dr. Fileve Palmer will be present, along with William Maybe (Seneca Nation) and Alfred State Senior Director of Residential Services Matthew Ryan (Seneca Nation).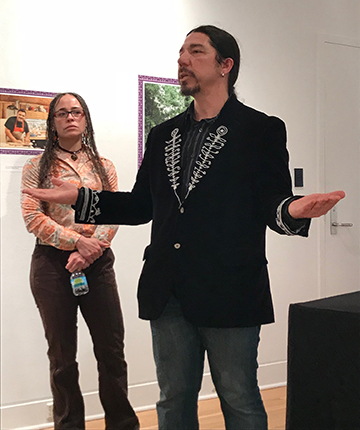 "The college is excited to welcome the work of these two scholars and visionaries, as well as members of the Seneca Nation, students, and the public. We look forward to a lively and thoughtful discussion of representation, identity politics, and culture," said Cyan Corwine, coordinator of international education at Alfred State. "Come join us for some light refreshments and insightful conversations."
In 2013, Stahlman and Palmer developed a photography exhibition revolving around six Wanamaker photographs called "Stirring the Pot: Bringing the Wanamakers Home." The two Indiana University-Bloomington graduates came to this project because in 2008, Stahlman unexpectedly came across an image of his great-great Tuscarora grandfather, Chief Jefferson Chew, and five other Tuscarora relations while searching through the Mathers' Museum for World Cultures' Wanamaker archive.
Over the years, while completing their dissertation research and work, the couple envisioned embarking on a project in which the original images would be shared with Stahlman's Tuscarora relatives. Stahlman and Palmer were already well versed at putting together photography exhibitions in South Africa, where Palmer led community- centered photo-ethnography-projects (PEP) with African youth.
The couple worked with the youth to connect them with professional community photographers, explore issues of representation and community, and helped them curate three community exhibitions around KwaZulu-Natal Province. When they returned to complete Stahlman's fieldwork on Tuscarora in 2011, they replicated PEP with a sixth-grade class in the Tuscarora Indian School with the help of Joanne Weinholtz, the culture and history teacher, who went on to exhibit the youth's photos during the National Picnic in 2012.
After completing their PhDs and witnessing the power of photography to engage community, they returned their attention to the Tuscarora photographs from the Wanamaker archive. The couple conceived a project in which the images were presented to individuals directly related to the people represented in the photos.
From there, volunteers who would model with their ancestors were solicited with enthusiasm. The descendants got to choose locations, poses, and which personal attributes they wished to see represented.
After doing it on their own, "We proposed the concept to Mathers and they eagerly jumped on board," said Stahlman. "Dr. Palmer and I spent the next 16 months, in five separate trips to Tuscarora, photographing living Tuscarora descendants with their ancestors. By the time we finished shooting, we had 587 photos."
With the curatorial assistance from Mathers, the team pared down to 24 images that captured the essence of the Stirring the Pot project. Since its inception, the exhibition has been shown on three separate occasions - at Mathers in 2016, Tuscarora Nation House in 2017, and at Purdue University in 2018.
For more information about this event, please contact Cyan Corwine at corwincy@alfredstate.edu.