From chew toys, to blankets, to treats, and much more, Alfred State College recently collected many different items for local animal shelters in need of food and supplies.
Last month, Jennifer Chiaino, a dispatcher with the State University Police at Alfred State, saw a news story about a local shelter that had taken in a large number of endangered pets.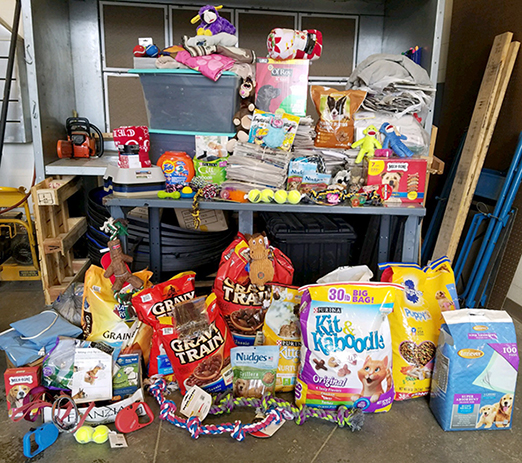 Chiaino wanted to do something to help, so she began to look around Alfred State for people and organizations who would be interested in partnering with her and the Police Department to do what they could to help. She quickly found three partners: Agriculture and Veterinary Technology Assistant Professor Kathleen Bliss' students, the Psi Delta Omega fraternity, and the Office of Civic Engagement.
"These students really jumped at the chance to help, be present, spread the word, and keep this campaign in the public eye, and it made all the difference in the world," said Chiaino.
Titled "Share the Love," the food and supply drive was designed to collect food, supplies, toys, and funds that are desperately needed by local shelters for the animals in their care. The groups and individuals involved publicized the event using social media and posters around campus.
Additionally, volunteers staffed tables and accepted donations for three days in the Student Leadership Center. At times, they had help from some very friendly dogs from the SPCA who were on-hand to interact with students.
Over the course of the three-day period, the group raised $150 in cash, and collected dog food, cat food, toys, heating pads, blankets, collars, garbage bags, leashes, treats, newspapers, puppy pads, laundry detergent, tissues, chew/tug ropes, food bowls, tennis balls, dog harnesses, biscuits, and bones. All donations were split among the Allegany County SPCA, Hornell Area Humane Society, and the Finger Lakes SPCA.
Chiaino noted, "It felt great to see so many items being delivered to these local shelters. Animals are innocent, they cannot provide for themselves, so I believe that we are charged with the responsibility to do what we can for them."