Updated Monday, January 21, 10:00 a.m.
Reminder: Spring semester classes will begin Tuesday, January 22. It's great seeing the Village of Alfred coming alive with all the Pioneers!
MLK Dream Week activities will also begin on Tuesday.
Updated Sunday, January 20, 3:00 p.m.
With classes canceled at ASC for Monday, January 21, the Office of Student Engagement and Campus Recreation invite all members of the Alfred State community to join us in a day of fun activities. All students, faculty, staff, and families are welcome.
Pioneer Fitness Center is open 9:30 a.m. - 11 p.m.
Student Leadership Center:
Rock wall climbing beginning at 11 a.m.
Board games and lawn games, with free snacks in the Park Space noon – 4 p.m.
HBO Go, foosball, and ping pong in the SLC Lounge (205) noon – 4 p.m.
Near Orvis Activities Center:
A basketball tournament in the gym noon – 3 p.m.
The Tubing Hill opens noon – 3 p.m. and 5 – 8 p.m.
*Temperatures and wind chill are forecasted to be at or below 0 degrees, so please take extreme caution and dress accordingly.
Updated Saturday, January 19 10:00 a.m.
Based on the severity of winter storm forecasts for the weekend, Alfred State College is canceling classes on all campuses for Monday, January 21. Events scheduled for celebration of MLK Dream Week will proceed as planned. Only essential personnel are to report to work on Monday
Posted Thursday, January 17 3:00 p.m.
With forecasts for a winter storm, ASC is providing flexible move-in times. All residence halls are open as of 8 a.m. Friday, January 18. We encourage students to monitor forecasts and plan travel accordingly. www.511ny.org
Returning students must park in commuter or fac/staff lots to allow crews access for snow removal. Students shall move to student lots at 5 p.m. Sunday.
Food service is available on campus with these options over the weekend: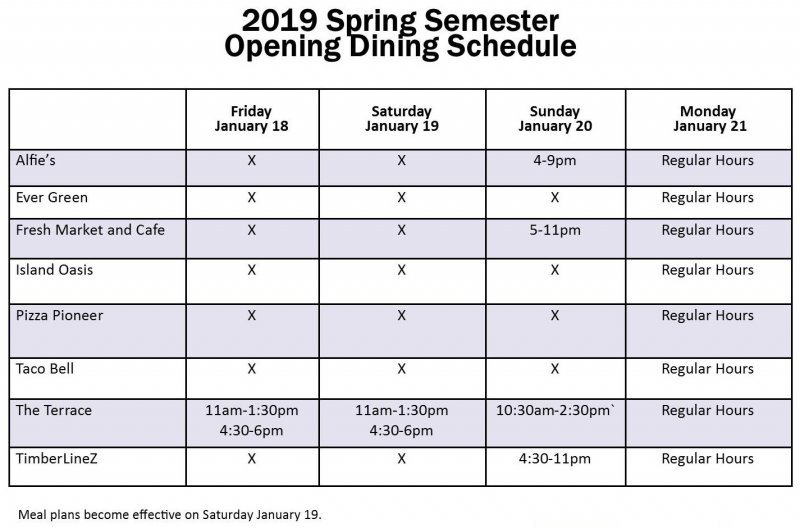 We can't wait to see you back on campus. Be safe Pioneers!