People in need across the Alfred State College community will soon have more food in their cupboards thanks to some students in the Presidential Aspiring Leaders (PAL) Program.
Recently, the PAL students held a food drive on both campuses, in which they encouraged fellow students, faculty, and staff to bring in any canned goods and nonperishable items and donate them in designated boxes.
Now in its second year, the Alfred State PAL Program was created for students who possess a strong work ethic, display commitment and dedication to their studies, are engaged in the community and the college, and are looking to strengthen their leadership skills.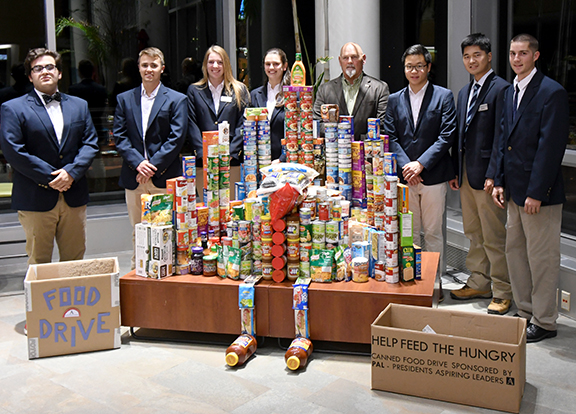 According to Carolyn Wright, who co-chaired the food drive along with fellow PAL member Hannah Weaver, business administration, Spencerport, a total of 535 food items were collected.
"The food will go to anyone in need across campus," said Wright, an agricultural business major from Franklinville. "Any food left over after distribution will be donated to the Alfred Food Pantry."
Giving his thoughts on the food drive, Alfred State President Dr. Skip Sullivan said, "This will make an impact on a lot of people who just don't have as much as others during the holiday season. The PAL students put a lot of heart into this. Our students are very civic-minded, and I'm just so grateful to be a part of this great institution and certainly proud of student organizations that do things like this."
The food will be made available from 9 a.m. to 6 p.m. Tuesday, Nov. 13 on the first floor of the St. Jude Chapel on the Alfred campus. Wright said she encourages anyone in need to stop by.
"The food will be sorted, and there will be bags that people can take and fill with what they want," she said.
While they were initially unsure of how the food drive would go, Wright said she and the PAL students were very pleased with how much they collected.
"We all feel it was a great start to what will hopefully become a PAL tradition," she said.
Wright noted that the PAL students are grateful for all the help and guidance they received along the way to make the food drive a success.
"I would like to recognize the help of the Business Professionals of America, Architecture, and Newman clubs with collection and distribution," she said. "I would also like to thank all the faculty across campus who helped supply us with materials we needed, and for all their support. It was nice to be able to involve other groups on campus."