Several Alfred State College students and employees recently attended the 91st annual National FFA Convention and Expo in Indianapolis, IN, where they set up a recruiting booth and spoke with numerous students about the benefits of an Alfred State education.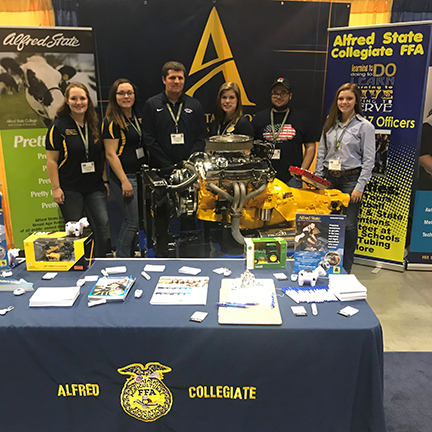 With more than 67,000 attendees, the National FFA (Future Farmers of America) Convention and Expo is one of the world's largest student conventions, according to its website. For over nine decades, the convention has "united members to demonstrate and celebrate their accomplishments and inspire their individual futures."
Additionally, the Expo covers more than 253,000 square feet and allows the 400-plus exhibiting companies to network and build agriculture awareness for the next generation of leaders, employees, customers, and advocates. The National FFA Organization, the website notes, is the premier youth organization dedicated to preparing members for leadership and careers in the science, business, and technology of agriculture.
Representing Alfred State at the convention were Travis Armison, instructional support associate, Agriculture and Veterinary Technology Department; Brad Smith, instructor, Automotive Trades; and students Rebecca Struzynski, agricultural technology, South Wales; Elizabeth Jurs, agricultural technology, Elba; CaraAnn Dean, agricultural business, Columbia Cross Roads, PA; Marissa Folts, automotive service technician, Springville; Jacob Steward, heavy equipment operations, Randolph; and Alan Goda, heavy equipment, truck and diesel technician, Stanley.
According to Dr. Phil Schroeder, chair of the Agriculture and Veterinary Technology Department, the group operated the ASC recruiting booth for three days, where they talked with FFA members and helped them use the heavy equipment simulator and 3-D projection system that were on display.
"Over the three days, they talked to thousands of students and collected more than 700 interest cards," Schroeder said. "Our booth was awesome, and our students, faculty, and staff did a great job representing Alfred State!"
For more information on the convention, visit https://convention.ffa.org.