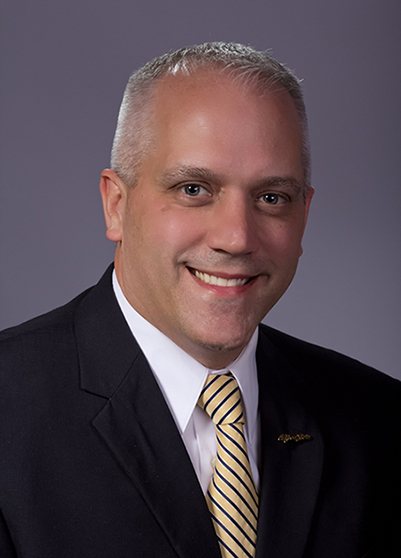 Furthering his education to the highest level possible, Alfred State College Vice President for Student Affairs Gregory Sammons recently earned a doctorate from Northeastern University.
Sammons successfully defended his dissertation, "Our Right to Know: How Campus Police Chiefs Experience the Clery Act" and subsequently completed all requirements to graduate with a Doctorate in Education (EdD) in organizational leadership. In addition to his doctorate, Sammons also holds a Master of Justice Administration degree from Norwich University, a Bachelor of Science degree in management from Houghton College, and an Associate in Applied Science degree in criminal justice from Finger Lakes Community College.
Sammons has been a member of the Alfred State staff since 1996. He became the vice president for Student Affairs in 2013 after previously serving as the institution's chief of police.
As a divisional vice president, Sammons oversees a number of departments including Athletics, Center for Civic Engagement, Center for Intercultural Unity, International Education and Student Services, Office of Student Engagement and Recreation, Health and Wellness Services, University Police, Residential Services, Greek Life, and the office of Judicial Affairs. Sammons is also a Level 3-NTS archery coach and volunteers his time as Alfred State's archery team coach. In 2012, he was awarded the Chancellor's Award for Excellence in Professional Service.
Sammons maintains membership affiliations with NASPA-Student Affairs Administrators, the Society for Human Resources Management (SHRM), and the Society for College and University Planners (SCUP).
He and his wife, Roxana, reside in Arkport, and are the proud parents of three daughters, Racquel, Courtney, and Sarah.