A total of 114 students from nine western New York colleges gathered at Alfred State College recently to learn how to enhance their leadership skills and make a difference on campus and in the community.
The students took part in the 2018 Western New York Student Leadership Conference, engaging in a number of educational sessions and learning about such topics as civic engagement, finding your voice as a student, free speech on college campuses, personality assessments, and more. Colleges represented at the conference included Alfred State College, Alfred University, Buffalo State College, University of Buffalo, Villa Maria College, D'Youville College, St. Bonaventure University, SUNY Erie, and Medaille College.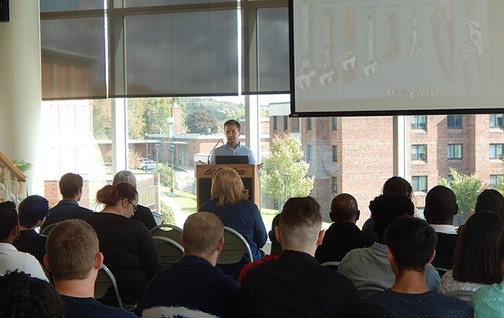 Providing the keynote address was Darren Cotton, founder of University Heights Tool Library. According to www.thetoollibrary.org, a tool library is a non-profit program set up to lend tools out to community members to help them maintain and fix up their homes and gardens. The purpose of a tool library is to help provide communities the tools they need to create the change they want.
Troy Morehouse, director of Student Engagement at Alfred State, said the conference was a great success.
"Students were provided many opportunities to become stronger leaders by learning more about themselves and the opportunities that exist for them," Morehouse said. "Along with this, students from other schools were very impressed with how beautiful our campus is."