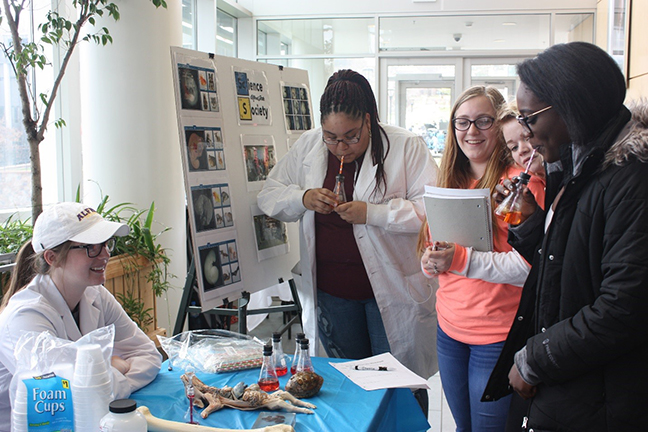 Dozens of students recently presented a wide variety of incredible projects during the college's annual Student Showcase, an event that highlights the talents of Pioneers from across many fields and disciplines.
The showcase offers a unique environment for all members of the college community to see and celebrate student achievements from both inside and outside of the classroom. With the aid of models, posters, prototypes, multimedia exhibits, and sometimes even their advisers, the students take attendees step-by-step through their own learning and achievement process.
This year's displays highlighted a turbojet engine, building construction projects, a portable snowmaker, an automatic tailgate, civic engagement projects, an emergency housing unit, an innovative motorcycle transporter, and more.
Jake Bianconi, an electrical engineering technology major from Ballston Lake, showcased his team's fire-fighting robot. He said the Student Showcase allows viewers to "see the world of electronics" through projects such as his.
Tara Tatu, recording secretary of the Science Society, shared small science experiments such as dissolving plastic foam with acetone, combining the love of learning with fun.
"I think it's important to see all the progress that students have made throughout the year," said Tatu, a forensic science technology major from Manlius. "It's also cool that you get a taste of other majors."
Dr. Kristin Poppo, Alfred State provost, said, "Alfred State College is exceedingly proud of the knowledge and skills our students gain in our applied learning programs. The Student Showcase exhibits exceptional projects completed by students, which illustrate that our students are career-ready!"