Several Alfred State College students recently participated in the fourth annual SUNY Undergraduate Research Conference (SURC), hosted by Monroe Community College (MCC).
The conference showcases the original research and creative activities of undergraduate students across the State University of New York (SUNY) system through oral presentations, posters, and performances.
In the Biological Communication session, Fabiola Carcamo (forensic science technology, Brooklyn) and Adjuwa Tomlin (interdisciplinary studies, Brooklyn) presented "Screening and discovery of soil bacteria with antimicrobial activity against bacterial pathogens from the Sinclair Refinery Wetlands."
Hannah Vuozzo (interdisciplinary studies, Salt Point) presented her senior capstone project, "Project Matryoshka: Creating an Adoption Story," in the Engaging Issues session.
"With hands-on learning at its core, Alfred State encourages a distinct type of innovation in undergraduate research and projects," explained Vuozzo. "My peers and I really learn to pioneer in our respective fields."
Architecture students Chris Hydos (architectural technology, Cornwall), Christian Jankuloski (architecture, Webster), Christiana Mehmel (architecture, Olean), and Matthew Mustac (architecture, Washingtonville) shared their design project "The Revitalization of the Village of Canaseraga, NY" in the Economy, Inclusion, and Cognition session.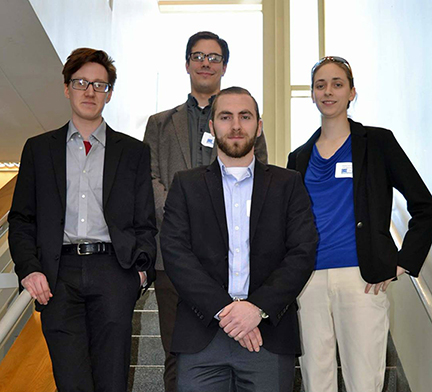 ​Hydos enjoyed being able to not only present, but to attend other presentations, as well, stating, "It was a valuable experience not just because we were able to present our project, but also because we had the chance to listen in on other presentations varying in scope and subject."
SURC is designed to enhance multidisciplinary perspectives and encourage networking between students and faculty alike.
In the Scientific Experimentation session, Brendon Declerck (mechanical engineering technology, Naples) presented "Investigation of Convective Flow in a PEMFC Cathode Gas Diffusion Layer," which focuses on work to improve hydrogen fuel cells. Declerck shared this research on behalf of his team members, Devan Albrecht (mechanical engineering technology, Lyons), Alfred University student Matthew Finley, and Thomas Moracco (mechanical engineering technology, Waterloo).
"I enjoyed having a platform to talk about an area that I am interested in with people in my field. I am grateful for the experience and opportunity to share the knowledge that I have gathered at Alfred State College," Declerck shared.