State University of New York Chancellor Kristina M. Johnson honored 249 SUNY students from across the state in Albany recently with the 2018 Chancellor's Award for Student Excellence, including Alfred State College's own Hannah Vuozzo and Katherine Holmok.
"I am immensely proud of these students, who have demonstrated academic excellence and dedication to enriching their campuses and communities," said SUNY Chancellor Kristina M. Johnson. "From research publications in industry journals to volunteering in hospitals and local clinics to holding leadership roles at their institutions, I am inspired by each student we recognize today, including Hannah Vuozzo and Katherine Holmok from Alfred State College. Congratulations to all of the students receiving this year's award."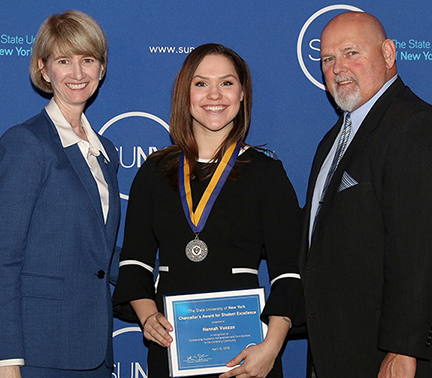 Johnson was joined by special guest Erin Hamlin, a four-time Olympian, 2014 bronze medalist, and two-time luge world champion. Hamlin made history at the 2014 Sochi Olympic Games as the first American (male or female) to win an Olympic medal in singles luge, and was the first US woman to win a medal in any luge discipline at the Olympic Games. The Olympian and world champion earned her Associate of Arts degree in interdisciplinary studies online from Empire State College.
As for the two ASC students who were honored, Vuozzo is an interdisciplinary studies major from Salt Point, and Holmok is a business administration major from Prattsville.
During her time at Alfred State, Vuozzo has served as the student co-vice president of the college's chapter of the Phi Kappa Phi Honor Society, study abroad liaison for the SUNY Student Assembly, executive vice president for Student Senate, managing editor and reporter for the campus newspaper Tor Echo, and secretary for the Alfred Programming Board. Additionally, Vuozzo also served as a communications intern while studying abroad in Sorrento, Italy, interned in the ASC Marketing Communications Office, is a member of the Alfred State Honors Program, and was named a SUNYCON 2016 Student Fellow.
As an ASC student, Holmok served as president and chair of Student Senate, liaison to the Alfred Village Board, lead civic engagement advocate for the Center for Civic Engagement, senior representative for the SUNY Student Assembly, and member of the college's Business Professionals of America chapter. Holmok also was named a Newman Civic Fellow by Campus Compact, was inducted into the Phi Kappa Phi honor society, received a Leadership through Civic Engagement Award, and helped organize and host an event on campus in support of the Maintenance of Effort bill.
The Chancellor's Award for Student Excellence was created in 1997 to recognize students who have best demonstrated, and have been recognized for, the integration of academic excellence with accomplishments in the areas of leadership, athletics, community service, creative and performing arts, campus involvement, or career achievement.
Each year, SUNY campus presidents establish a selection committee, which reviews the accomplishments of exemplary students. Nominees are then forwarded to the Chancellor's Office for a second round of review. Finalists are then recommended to the chancellor to become recipients of the award.