Three Alfred State sport management students were able to gain valuable industry insight and engage in a number of significant networking opportunities recently during the 2018 Niagara University Sport, Recreation, and Tourism Summit.
Held in St. Vincent's Hall on the Niagara University campus, the event enabled the students to learn from sport industry professionals from Clemson University Athletics, University of Connecticut Athletics, the Buffalo Sabres Foundation, Buffalo Bisons, Toronto FC, Rockland Boulders, Spectrum Center Charlotte, Community Foundation of Greater Buffalo, Niagara University Athletics, and the National World War I Museum and Memorial.
In addition to hearing from keynote speakers from the National World War I Museum and Memorial (Chris Wyche, vice president) and Clemson University Athletics (Jonathan Gantt, director of new and creative media), students were also able to gain valuable industry insight within panel discussions focusing on topics such as development, scouting, youth sports, minor league sports, new media, and senior leadership.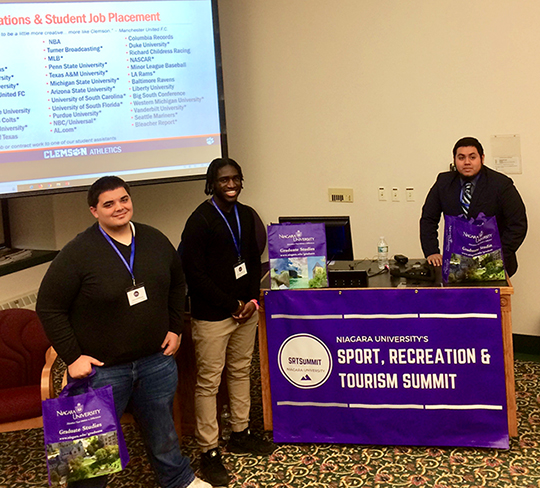 Those who attended from Alfred State include Fernando Ramos, of Yonkers; Learoy Smith, of Yonkers; and Christopher Smerina, of Staten Island. John Lisec, assistant professor in Alfred State's Business Department, said the summit provided a significant opportunity for sport management students to gain additional knowledge, perspective, and industry connections with top sport industry professionals.
"While information learned within the classroom is important and significant, industry-based events such as this provide Alfred State students tangible networking and mentorship opportunities, unique career advice about working in the sport industry, and connections necessary for full-time employment," Lisec said. "These type of events truly have become a top priority and provide unique opportunities for Alfred State sport management students to pursue various sport business career paths."
Ramos noted this was the second time he has attended the summit, and that both years he met a lot of great industry professionals.
"I highly recommend students in my major attend this event," he said.
Smith said he had a great experience at the summit, especially during the networking segment.
"One of my highlights was speaking to Ashley Gladney, who is the assistant manager of facility operations at Spectrum Center at the Charlotte Regional Visitors Authority," he said. "She helped me to get a better understanding of the ins and outs of sports facility management and how I can better prepare myself to be successful. I'm thankful for the opportunity to be a part of this summit."