Alfred State College (ASC) is now home to a new national champion after another powerful performance by wrestler George (Ian) Van Valen, a construction management major from Ithaca.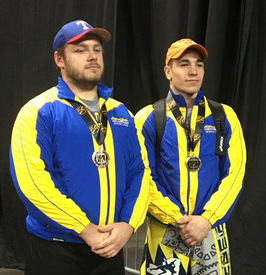 Van Valen capped an amazing career at ASC by becoming the 184-pound national title winner at the 2018 NCWA Championships in Allen, TX, on March 10. Teammate Ryan Mattison, a construction management major from Brockport, earned an impressive fifth-place finish nationally in the heavyweight bracket.
Van Valen squared off with the No. 3 seed Jerron Thomas from Mott Community College in the championship match of 184 pounds. He jumped out to an 8-1 lead after the first period, and after an early escape in the second period, he took full control of the match and raced to a 16-1 tech fall victory. He finished the tournament with a 5-0 record, and outscored his opponents 74-2. For his dominating performance, Van Valen was named the Most Outstanding Wrestler of the Tournament.
This is the third time Van Valen has earned NCWA All-American honors. He finished fourth in 2016 and second in 2017. He finishes the season 42-1 on the year, and is 81-8 during the last two seasons.
Mattison entered the day on Saturday guaranteed a spot in the top eight of the heavyweight bracket. He started the day off with a pin of Austin Wells (Middle Tennessee State) in 4:12 to advance to the consolation semifinals. In his next match, he was downed by Donavan Lozada (Springfield Tech) but he was able to rebound to earn a tight 3-2 decision over Dominick Johnson (Liberty) in the fifth-place match.
In the fifth-place match, neither wrestler scored in the first period. Mattison started the second period on top, but Johnson took a 1-0 lead with an escape. Mattison responded with the only takedown of the match before Johnson tied it in the late moments of the second with another escape.
Early in the third period, Mattison escaped the hold of Johnson and he was able to hold the lead the rest of the way to claim fifth place. For the tournament, he finished 5-2 and he finishes 24-16 on the year.
The Pioneers finished the three-day tournament with 73 points to earn 11th place out of the 79 teams that competed.