Over winter break, Alfred State College students of digital media and animation (DMA), along with Associate Professor Jeremy Speed-Schwartz, explored art, cinema, and animation in Japan as part of the college's Studio Tokyo program.
During the two-week experience, 18 students collaborated with Meiji University Professor Kentaro Fukuchi and his digital arts students. According to Speed-Schwartz, the group was invited to Fukuchi's lab on the Nakano Campus of Meiji University to share their projects and see work from his students, including virtual reality and 360-degree video work.
The students also participated in a "hack-a-thon," in which Alfred State and Meiji students worked together in teams to create works utilizing technological equipment such as infrared and 360-degree cameras.
In coordination with University of Iowa Professor Peter Chanthanakone, Speed-Schwartz arranged for their students to collaborate by creating stop-motion "dances." Groups of both Alfred State and University of Iowa students were given supplies and three hours to create their films, which were later judged by a panel including Speed-Schwartz, Chanthanakone, and local filmmaker Benjamin Beardsley.
The main project for the trip was an animation production in collaboration with the Tokyo-based band Lantanaquamara. Working with their manager, So Yamanaka, the students developed a music video for the band's song "Meteor Shower." Much of their work had to be communicated visually, given that the band speaks only limited English, said Speed-Schwartz.
He stated, "The program is designed to immerse students in a culture other than their own, offer an opportunity for structured group animation production and further their exploration of the history of Japanese media and art. I couldn't be happier with the professionalism and engagement exhibited by these students throughout the program."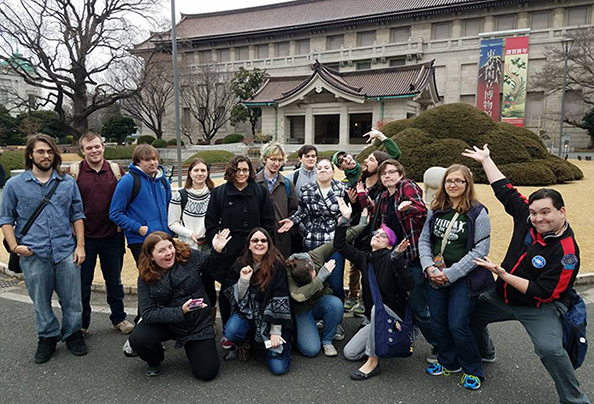 Alexandria Devlin, a DMA student from Port Jefferson, said, "How many times do you get to visit a foreign country to study? I got to learn from what animation derived and why. It was very interesting to see how it evolved."
Beyond valuable collaborative exploration, students continued their research of Japanese media through several site and museum visits in the greater Tokyo area. The group visited the Suginami Animation Museum in Suginami, the National Museum of Emerging Science and Innovation in Daiba, the Tokyo National Museum in Taitō, and the Studio Ghibli Museum in Mitaka.
"I would totally do it again if I could," said Devlin.
The program is offered every other year to DMA students.
The Studio Tokyo students, all digital media and animation majors, are:
Nicole Barber, of Rochester; Tom Casterline, of Canisteo; Gregory DeGraff, of Alfred Station; Alexandria Devlin, of Port Jefferson; Joshua Fand, of Wallingford, CT; Chris Fogg, of East Meadow; Jillian Gregory, of Andover; Rebecca Gregory, of Andover; Cassaundra Hall, of Bath; Megan Hendershot, of Brockport; Robert McCoy, of Levittown; Alexis Parker, of Honeoye Falls; Skyler Reisner, of Olean; Taylor Stevenson, of West Seneca; Tyler Sudyn, of Buffalo; Darien Waldron, of Central Square; Ryan Williams, of Saint James; and Gregory Williams, of Wellsville.