Students in Alfred State's masonry program have been hard at work cooking up something special for the School of Applied Technology, particularly the Culinary Arts Department.
Recently, the students completed the first phase of a three-phase project to build an outdoor kitchen area behind the bakery lab facility on the Wellsville campus.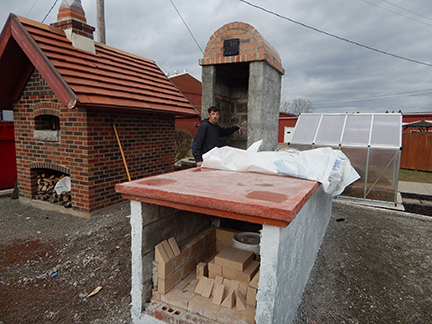 According to Stephen Richard, associate professor in the Building Trades Department, the space, which is about 450 square feet, will enhance the culinary and baking curricula; students will experience hosting and catering special events and creating specialty food in the setting of the outdoor kitchen.
When completed, the space will include a wood-fired pizza oven and smoker, as well as countertop grills and prep space. This equipment will allow culinary and culinary arts: baking, production and management students to bake various breads, and to smoke fish, meats, and poultry in a different setting.
"At our College of Applied Technology, we feature a project-based learning environment," Richard said. "The students' educational process includes lectures, but predominantly student projects that the students build, make, fabricate, repair, fix, restore, weld, etc. These projects can be temporary mock-ups, or built-in-place structures. So in masonry, we are always looking for the 'right' projects to build, such as this one."
This project reflects the awareness of industry trends to prepare masonry, culinary, and baking students for success in their careers. Outdoor gathering spaces with patios, fire pits, pizza ovens, and full kitchens have become increasingly popular.
Furthermore, the culinary and baking industry has seen a higher demand for more natural ways of preparing food — including curing and fabricating meat — as well as catering, staging, and food cart and truck services. With the opportunity to work on such projects, students are able to gain relevant, hands-on learning experiences without having to venture offsite.
When in use during daytime classes, the space will accommodate 15 to 20 students for lab activities. There are future plans for the outdoor kitchen to be a location for hosting special events.
"We're excited to add the outdoor kitchen area as another valuable hands-on learning opportunity for our students," said Deb Burch, chair of the Culinary Arts Department. "The masonry students and professors have done an amazing job creating this new space, and we cannot wait to see this project come to fruition."
The second phase of the project will consist of laying paver brick in the outdoor kitchen area, scheduled to be completed by masonry students during this semester. The final phase, relocating the dumpster and building outdoor countertops with grills and cold storage will be completed in fall 2018.