Alfred State Pioneers and their families saddled up this year for yet another fun and successful Homecoming and Family Weekend celebration, which featured, among other highlights, the college's first bulls and barrels rodeo.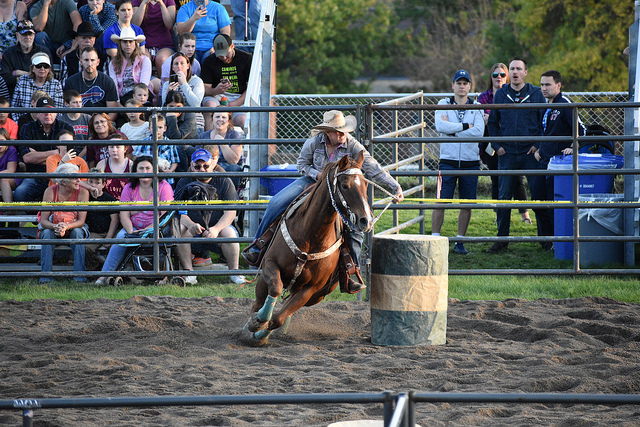 Taking place Saturday, Oct. 14, the rodeo was coordinated by Broken B Rodeo, of Dalton. To the delight of audience members, professional bull riders used their skills and mastery of form to score points for each second they stayed on an animal weighing more than 1,000 pounds.
Audiences also marveled as barrel races tested horses' athleticism and mental conditioning, along with riders' horsemanship skills as they maneuvered through a cloverleaf pattern at top speed.
The rodeo was one of many highlights of Homecoming and Family Weekend, which took place Oct. 12-14. The first night, Thursday, featured the annual Blue and Gold dinner, followed by a dodgeball game between students and faculty/staff members. Friday's events included the seventh annual Carly's Club Race for a Cure 5K Run/Walk, a spirit rally and bonfire, fireworks, and the always-popular Alfred's Got Talent show.
In addition to the rodeo, Saturday saw fans of Pioneer athletics come out in full force to support the Blue and Gold as they took on the Gallaudet Bison at Pioneer Stadium. A Greek chili cook-off and car show preceded the big game.
Capping off Saturday's festivities was Peter Boie, known as the "Magician for Non-Believers," who left audiences both laughing and astonished.
Colleen Argentieri, director of Alumni Relations and co-chair of the Homecoming and Family Weekend Committee, said she is very pleased with how the weekend went.
"Once again, we simply could not have ordered two more perfect days with the weather," she said. "The weekend consisted of a lot of Pioneer spirit with several athletic events, great food, festivity, and even a rodeo. We received wonderful remarks from both alumni and parents who attended. We have an amazing committee and group of people at the college who work hard to pull this event together, and once again, it was a great success."
Fellow committee member Mallory Morehouse, associate director of Orientation and Family Programs, said, "We were excited to add a new event to the weekend schedule. The rodeo did not disappoint. As always, Alfred's Got Talent was a highlight and I am continually impressed with the talent of our students."