A number of cabins along the Ryan Trail at Allegany State Park got a much-needed facelift recently thanks to a project involving Alfred State Building Trades students.
For two weeks, 14 students worked on upgrading the cabins, which included foundation stabilization, structural repair, reroofing, siding repair, and painting. Altogether, nine cabins were included in the renovation project, which was a joint collaboration among Alfred State; HistoriCorps; and the New York State (NYS) Office of Parks, Recreation and Historic Preservation.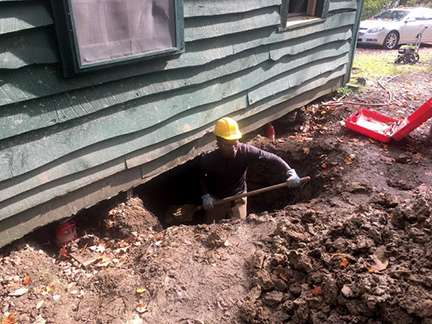 According to Building Trades Chair and Associate Professor Jack Jones, the students ate and slept in the same cabins they were working on. The cabins were originally constructed by the Civilian Conservation Corps (CCC) in the 1930s.
Jones added that HistoriCorps, a nonprofit organization that engages volunteers to save historic places across the United States, arranged the meals and provided on-site leadership and logistics for the project. Students all pitched in to help cook and clean up, Jones said, and four of them even assisted a local resident with some work that he needed completed.
"I think this immersive educational experience has been a great opportunity for our students," Jones said. "Staying on site has given them a break from the classic campus-based educational environment. These guys were able to get to know one another better and make memories that will stick with them for a lifetime, all while helping to preserve history, and developing their skills and education. There are a couple of things we can do better next time, but overall, this pilot was a big success."
Jay Bailey, regional director for the NYS Office of Parks, Recreation and Historic Preservation's Allegany Region, said, "We here at Allegany State Park are very pleased to be the host and a partner to this unique collaboration among NYS Parks, HistoriCorps, and Alfred State. This partnership, with one of our key local educational institutions, has provided real-world experience for their students while helping us preserve and renovate these CCC-era cabins.
Bailey added, "Allegany State Park's guests are known to come back year after year to enjoy these special cabins, and Alfred State and HistoriCorps have made it possible for families to keep this tradition alive for generations to come. We would like to thank each and every student, alumni, and staff member for their contribution to the Ryan Trail Cabin Project."
The students all agreed that working on the project was a valuable experience.
"Working with Historicorps was awesome and a truly unique experience," said Isiah Richardson, a building trades: building construction student from Geneva. "With the amount of fun everyone had, it's hard to consider a better way to contribute to the community."
Jonathan Barber, a building trades: building construction major from Batavia, said, "It was an experience I will never forget. Because of this trip, I feel like I was able to work on skills that helped me become a better carpenter and a better person. These are skills that will help me in the long run."
CJ Blanchard, a building trades: building construction student from Hornell, noted, "Working with HistoriCorps was such an honor. They really have a passion for historic preservation and the environment that they passed on to my fellow students and me."