A number of astounding paintings by artist Kenneth P. Cobb are being presented in an exhibit titled "Reflections" at the Hinkle Memorial Library Gallery at Alfred State from now to Oct. 27.
Cobb is a studio artist specializing in oil, charcoal, and pastel. In his artist statement, he said he has "always been attracted to the investigative practice of painting."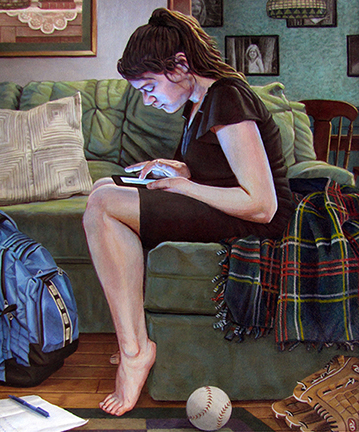 "It's almost like an experimental process," he said. "From the idea to the technical application of the paint, I have found each problem-solving step can be very rewarding as an experience in itself."
The "Reflections" exhibit highlights investigations the artist has conducted over the past several years and includes a showcase of the figurative, still life, and landscape genres.
In "Reflections," Cobb has explored and included several themes, from the industrial landscape, to the portrait narrative, to color explorations/explorations in technique, and technology and culture. He noted that each series has had its unique challenges in regards to research and execution.
An instructor of art at Mansfield University of Pennsylvania, Cobb teaches courses in drawing, painting, graphic design, and gallery management.
Born in 1975 in Canandaigua, Cobb received his Bachelor of Fine Arts in painting and computer art from Bowling Green State University in Ohio and his Master of Fine Arts in studio art from Southern Illinois University at Carbondale.
The exhibit is open for viewing during normal library hours. To inquire about exhibiting your work in the Hinkle Gallery, email library@alfredstate.edu or call 607-587-4313.