While students may be working hard at internships, summer jobs, or just having fun during the summer, workers at Alfred State are busy making a number of upgrades and additions to campus before the start of the fall semester. A streak of cool and wet days in the Southern Tier has not stopped the progress, either.
"It's not uncommon at this time of the year to walk or drive around campus and see construction vehicles and equipment, road cones, new pavement, or cement drying – all signs that progress is being made over the summer so that when our students return for the fall, they will find the campus even better than the last time they were here," said Alfred State President Dr. Skip Sullivan.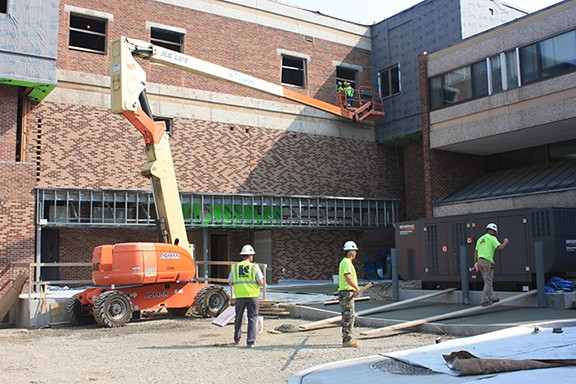 Constructing new facilities is just one example of the efforts that campus workers are putting in this summer. Opening for the first time this fall will be the new Motorcycle and Power Sports Technology building, located along Route 244 in Alfred, as well as the new locker rooms at Pioneer Stadium. Another Athletic Department renovation that is currently underway involves work on the press box for the softball and baseball fields.
Also undergoing renovations is the MacKenzie Complex, the largest residence hall on campus. By January, students are expected to be able to move into the all-new East Tower and enjoy the Central Quad area. Just up the hill from MacKenzie, the addition of workout stations gives hikers another reason to enjoy Pioneer Trails this fall.
Further additions to campus include buses that will serve both the Athletic Department, as well as Auxiliary Campus Enterprises and Services (ACES). The college has also added a non-denominational prayer space in the Student Leadership Center.
When students return to campus, they will also notice a number of other improvements, including a new outdoor seating area outside the Central Dining Hall, as well as newly paved parking lots.
"Our campus workers have been very hard at work this summer, and we have no doubt that many of our students have been, as well," Sullivan said. "This is always an exciting time of the year, and we can't wait to have the students back on campus in a few weeks for the start of the new academic year."