More than two dozen gifted high school students from across New York converged at Alfred State this month for the NYSSSA School of Media Arts, an intensive four-week program that offers courses in filmmaking, video and sound art, photography, animation, and more.
This marked the first time that Alfred State has hosted the program, which is one of many within the New York State Summer School for the Arts (NYSSSA). This institute is run by the New York State Education Department for students of the arts in various disciplines, from music and the performing arts to visual arts, and programs for each discipline are hosted at college campuses across New York State.
Artistic Director Ghen Zando-Dennis said, "NYSSSA School of Media Arts is committed to an experimental and exploratory pedagogical approach to art-making. Students combine the technical skills with the critical skills to make work, and many go on to attend notable art/film schools, sometimes with scholarships awarded from their portfolios of work made in our classes. Alfred State is a good fit for us, and we are excited to be working with our hosts in the Department of Digital Media and Animation."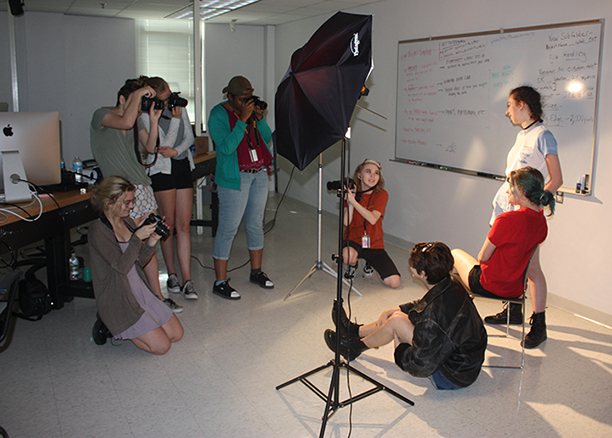 Steven Kendrat, assistant director of administration for the NYSSSA School of Media Arts, said, "We are excited to be hosted this year by Alfred State, a new host campus to the program, and look forward to continued collaboration and relationship-building. Everyone here has been quite supportive and enthusiastic about the program."
Each day, the School of Media Arts includes a rather full schedule, with daily classes running from 9 a.m. to 5 p.m., then lectures or visiting artist presentations taking place in the evenings.
"The curriculum includes producing work, learning media art history and contemporary practices, and engaging with nearby media art-related spaces such as Squeaky Wheel in Buffalo, and the Visual Studies Workshop and George Eastman House in Rochester," Zando-Dennis said. "Classes run for eight hours each day, and are taught by faculty from as far away as Los Angeles and as close as Buffalo, including filmmakers, video artists, photographers, experimental composers, and animators who have experience working in the art world and the industries."
Although the schedule is rigorous, the students, Kendrat said, "have a blast as they pursue the work they are passionate about," under the guidance of experienced faculty artists. Similar to the experience had by Alfred State students, a lot of learning happens outside of class.
"Much of the students' work takes them out of the classroom, as they undertake photo shoots on campus or in the community, or collaborate with other students to shoot scenes for video projects," Kendrat said. "The proximity of the town to the Alfred State campus is something many students have already taken advantage of, and I was impressed with the many unique visions of Alfred portrayed in the students' mid-term presentations."
Zando-Dennis noted that the program is adjudicated, meaning high school students apply with a written artist statement and samples of their work. Students, she said, do not need to have worked directly with the mediums they apply to study in the program.
"For example, students may not have had prior access to 16 mm filmmaking materials or professional sound-mixing software or recording tools, and so we select young artists who are generally imaginative, curious, creative, and committed to learning new skills," she said. "Other NYSSSA summer schools include ballet, dance, theater, orchestral and choral studies, and visual arts, and they are hosted at other SUNY campuses."
To help with the cost of the program, NYSSSA offers sliding-fee scholarships to students of low-income families. Students must be in high school and a New York State resident to be eligible to attend.
As a NYSSSA Media Arts alumnus returning in a new role, Kendrat said it's nice to see the consistency in the artistic mission of the program, in addition to being continually inspired by the work of the students and faculty artists.
"It's amazing to see how much high-quality work comes from the students in just four weeks," he said. "Of course it helps that our students are highly focused and self-motivated. Most plan to go to college for their media discipline."
The students' final work will be featured on campus Friday, July 28 in the Bret Llewellyn Art Gallery (third floor of the Engineering Technology Building) at 11 a.m., and during a screening in the Orvis Activities Center at 1 p.m. The public is invited to attend both the gallery and the screening.
For more information on the NYSSSA School of Media Arts, visit www.oce.nysed.gov/nysssa/media-arts.