Despite ending up with a "DNF" (did not finish) in the 2017 Great Race because of some bad luck on the last lap, the Alfred State team still managed to run a "great race" and get its vehicle across the finish line.
This year, the annual controlled-speed endurance rally began June 24 in Jacksonville, FL, and continued for 2,300 miles through several other states before ending July 2 in downtown Traverse City, MI. The event tests teams' abilities to follow precise course instructions and their vehicle's ability to endure on a cross-country trip.
Facing 120 other teams, the Alfred State squad competed in the event for the third straight year in its 1953 Dodge Power Wagon tow truck. Nick Shelp, motorsports technology, Endicott, served as the driver of the vehicle this year, while Nick Guarino, automotive service technician, Alexander, and Liam Dechick, motorsports technology, Syracuse, were the navigators.
Automotive Trades Professor Mike Ronan, the team's faculty adviser, noted that Sam Holevinski, heavy equipment, truck and diesel technician, Canisteo, was loaned to the El Camino College team from Los Angeles after that school became in need of a navigator.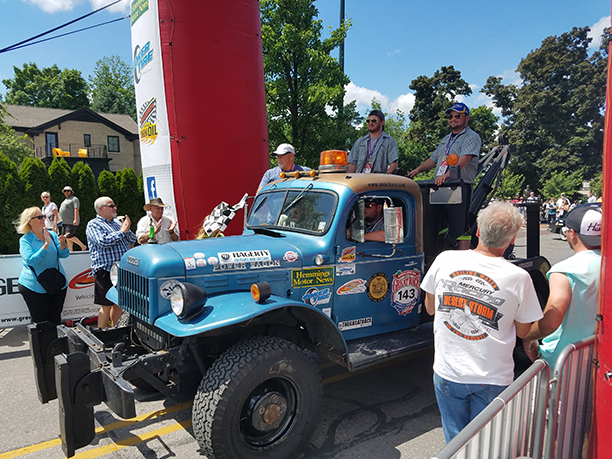 According to Ronan, the Alfred State team's troubles began during the "Trophy Run" which is essentially a warmup rally about 200 miles long held the Friday before the race starts. During this event, the Power Wagon broke a rear axle, and the team had to contact a specialty parts supplier in Iowa to send the new one overnight.
The team then used a trailer to haul the truck from northern Florida back to Jacksonville for repairs. The cause of their problem? A retaining pin that came out of position after being in the same location since the truck was made in 1953.
After fixing this issue, the team made it to the start of the race just in time.
"We headed for our start position three miles away with minutes to go," Ronan said.
Having overcome this hurdle, "everything went great" for the team, Ronan said, until the last day.
"The truck started running very poorly about 96 miles from the finish line," he said. "Although it still drove, it was not going to make the finish line in the allotted time. We put it on the trailer, then unloaded it near the finish line so it could make a ceremonial finish (done at the request of the organizers). Turns out, it broke a valve spring."
Despite having experienced difficulties before and at the end of the race, the team ran quite well along the way, even earning three "aces" (perfect times) on individual legs of the rally. All in all, Ronan is proud of the way the students performed.
"Alfred State was fortunate to have four wonderful ambassadors representing the college over the 2,300-mile event," Ronan said. "The students were helping other teams with mechanical problems virtually every night, and the truck was able to make the start due to their sheer determination."