For the third straight year, Alfred State Pioneers and supporters came together in an annual tournament to play a round of golf, enjoy one another's company, and raise funds for the college.
And once again, the event was a big success, as 32 teams vied for the coveted Alfred State "blue jacket." Also, following expenses, proceeds of more than $29,000 were raised that will benefit the Alfred State College Development Fund Inc., to provide for student scholarships, athletics, and other needs of the college.
Presented by Mach Architecture, PC, the third annual Pioneers Drive for the Development Fund was held on Friday, June 16 at the Twin Hickory Golf Club in Hornell. Team captain Fran Argentieri led his foursome of Bob Forness, Dan McDonall, and Alex Fitzpatrick to a score of 19 under to capture the title.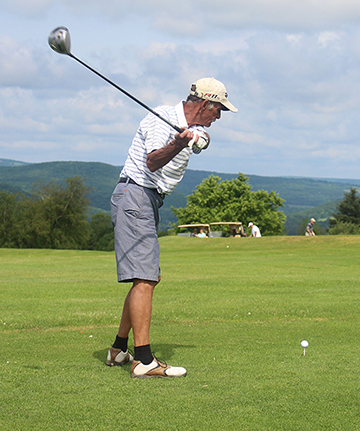 The second-place team, which scored 16 under, included Troy Morehouse, Steve Wintersteen, Matt Horvoth, and Jeremy Lite, while the Otis Eastern team of Tom Hirsch, Chuck Neal, Brent Rohrbacker, and Mike Obuhanich placed third.
The top three teams took home $500, $300, and $200 respectively. In addition, a Weber gas grill was awarded for the closest shot to pin on the fourth hole, and other contest prizes included a putter, printer, and numerous gift certificates, cash, a 50/50 drawing, lottery board, silent auction items, and more than 75 door prizes. A dinner was held immediately following the tournament at The Main Place.
Event sponsors included Auxiliary Campus Enterprises Services, Inc.; Labella Associates, PC; and Pathfinder Engineers and Architects. Eagle sponsors included Alesco Advisors, LLC; Laborer's Local #621; Otis Eastern; U&S Services, Inc., and West Herr Automotive. There were more than 33 contest and hole sponsors.
Executive Director of Institutional Advancement Danielle White stated that, "Our success is only due to the tremendous support from many businesses in our community and region, as well as our amazing, generous, and kind alumni and friends. The tournament continues to grow each year both in support and fun, and we look forward to increasing both in the future. It gives us great pleasure to be able to help meet the needs of the college and our students."