Assistant Professor of Digital Media and Animation Jeremy Speed Schwartz recently took home first place in the Experimental Film category at the ASIFA East Awards ceremony in New York City.
Now in its 48th year, the ASIFA East Awards event is America's longest continuously running animation awards ceremony. ASIFA (Association Internationale du Film d'Animation) is an organization that was founded in 1960 in Annecy, France by a group of international animators to increase worldwide visibility of animated films. Its eastern US chapter, ASIFA East, is based in New York City.
Speed Schwartz's winning film, "Iterations," is described as an "abstract iterative loop with changing timeframes," in which shapes and lines overlap and affect each other across three different loops. The piece was inspired by the work and techniques of Adam K. Beckett, an undisputed master of optical printing, whose works ("Sausage City" and "Dear Janice") utilize single iterative loops. The music track for "Iterations" was developed and performed by Speed Schwartz and musician Anton Flint, of Hornell.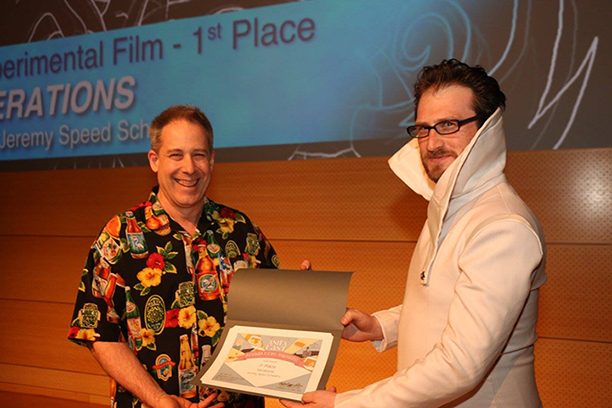 Prior to being honored at the ASIFA East Awards, "Iterations" premiered at the Punto y Raya festival in Karlsruhe, Germany last October, and has since screened internationally at 15 festivals, including the Ann Arbor Film Festival and Athens Animfest. Upcoming screenings include the Melbourne International Animation Festival and the Animex Festival at Teesside University in Middlesbrough, England.
Speed Schwartz said most of the animators he knows reside in southern California, and that the award has provided him a great opportunity to become more involved with the animation community on the East Coast.
"The outpouring of support from the animation community has been wonderful," he said, "and has been a great energy boost for the continuing independent animation work I've been doing."
Experimental animation, Speed Schwartz said, is an area of animation practice that can be difficult to define, and is often misunderstood to indicate a technique or idea that is unfinished. Encompassing innovations in technique, process, design, and structure, experimental animation is "probably better understood as innovative or avant-garde animation," Speed Schwartz said.
"Animation in popular culture is dominated by character-based works primarily for children, but there is a dedicated community of experimental animators that have existed since the earliest days of cinema constantly pushing to expand what the medium can do," Speed Schwartz said. "It's great to see organizations such as ASIFA honor the work of those animators."