Alfred State celebrated the achievements of hundreds of students during the 33rd annual Honors Convocation, with Dr. Kristin Poppo, provost, presiding over the event, and SUNY Distinguished Professor of Mathematics and Physics Lawrence E. Burns serving as grand marshal. view photos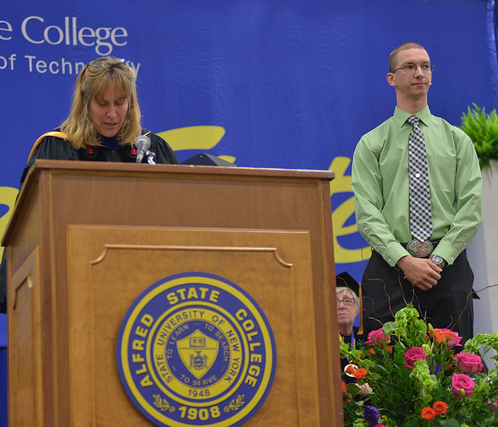 The Alfred State Concert Band played the academic processional to open the ceremony, which was followed by the singing of the national anthem by the Alfred State Men's Quartet. Daniel Huff and Gonio Miller of the Lehman Dar Dowdy Living Cultural Center, Seneca Nation gave the invocation.
Following the welcome by President Dr. Skip Sullivan and the provost's remarks, Deans Awards for Academic Excellence were presented by the deans of the three schools, Jeffrey Stevens (interim dean, School of Applied Technology), Dr. John Williams (School of Architecture, Management and Engineering Technology), and Dr. Robert Curry (School of Arts and Sciences). The recipients of the awards were Hannah Schaus, culinary arts: baking, production and management, Arcade; Nia Seward, digital media and animation, Newark Valley; and Jenii Statt, nursing, Andover. The deans later handed out the Student Awards for Excellence.
Receiving the Provost's Award for Academic Excellence was Brandon Bryniarski, electrical engineering technology, Springville. Gregory Sammons, vice president for Student Affairs, recognized Robert Mahany, construction management, Orchard Park; and Mary Rose Ricotta, forensic science technology, Derby, as the Chancellor's Awards for Student Excellence recipients.
Patricia K. Fogarty, chair of the College Council, presented the Leadership through Civic Engagement Award to Holly Fiore, architectural technology, Niagara Falls; Katherine Holmok, business administration, Prattsville; and Kara Johnson, digital media and animation, Bergen. Holmok also received the Newman Civic Fellows Award from Fogarty.
Sullivan presented the Distinguished Alumni and Outstanding Young Alumni Awards to 1975 graduate Dale Stell (landscape development), 1966 graduate Thomas Ward (accounting), and Steven Elwell (financial planning).
The Seneca Nation's Huff and Miller gave the benediction, and the Alfred State Concert Band played the academic recessional to close out the ceremony.