In keeping with an annual tradition that has spanned decades, Alfred State nursing graduates took part in a pinning ceremony just days prior to the college's 106th commencement exercises.
The event recognizes the years of study and hard work graduating nursing students have invested in preparation for their chosen career. Following in the footsteps of the many who came before, the graduates received their pins, lit their Florence Nightingale candles, and took The Nightingale Pledge, vowing to devote themselves to the welfare of those committed to their care.
But this year, there was something extra special about the ceremony and the graduating nursing class: they both commemorated the 50th anniversary of the college's first nursing program.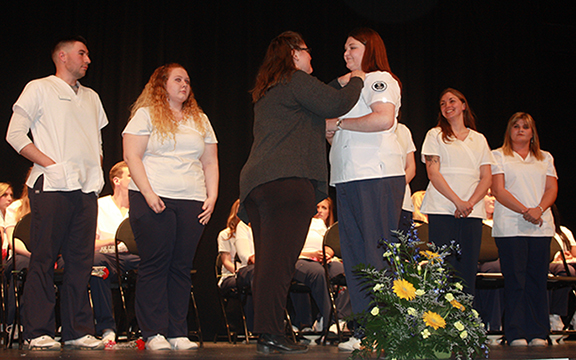 "These graduates here on stage have worked extra hard this year because we have pressured them by reiterating the 50th graduating class of Alfred State's nursing program," Nursing Department Chair Linda Panter said during the ceremony. "That is a lot of pressure for these students because every day they were reminded of the 50th, so I congratulate you all."
Also speaking at the ceremony was Jean Gonska, assistant professor, who mentioned that the students have one more hurdle to overcome: the exam that allows them to become registered nurses. She urged the students to be the first class to have achieved a 100 percent pass rate on the exam the first time around.
"Wouldn't that be cool? Our 50th class, 100 percent," Gonska said. "You've got this. No pressure."
The night prior to the ceremony, a 50th anniversary dinner was held at the Lake Lodge in Alfred Station, as nursing students, alumni, and past and present faculty and staff all gathered together to celebrate the first Alfred State nursing program's golden anniversary. It was a time for those present to reflect, share memories, swap stories, and enjoy the camaraderie of fellow nursing grads. State Sen. Catharine Young, R-Olean, also honored the milestone with a resolution, which will be on display in the hallway outside the nursing offices in the Physical and Health Sciences Building.
Another way in which the anniversary will be permanently honored is through the graduating class' donation of a commemorative brick that is to be placed in the Alfred Alumni Plaza on the Alfred campus. The brick reads "50th anniversary nursing class 2017."