For the second consecutive year, the Alfred State Basic Utility Vehicle (BUV) Team earned a first-place finish in the annual intercollegiate BUV Design Competition in Batavia, OH.
The team tied with the University of Cincinnati for first place, making this the fourth time Alfred State's squad has come out on top. The team has also come in second four times since first entering the competition in 2006.
The contest is a combination of a race and manufacturing design competition. Other schools that competed include Baylor University, Purdue, Trine, and Texas A&M.
This year's team consisted of William Faes (mechanical engineering technology, Canisteo), Dominic Freudenvoll (mechanical engineering technology, Rochester), Robert Kelso (mechanical engineering technology, Middletown), and Kyle Glaub (mechanical engineering technology, Buffalo). The team was accompanied by Academic Support Technician Ray Gleason, and Steven Martinelli, professor in the Mechanical and Electrical Engineering Technology Department, who served as the team's adviser.
According to Martinelli each team's vehicle was judged prior to the competition. Points were awarded at the onset of the competition with respect to safety, innovation, and construction. The Alfred State team received all points possible at the inspection.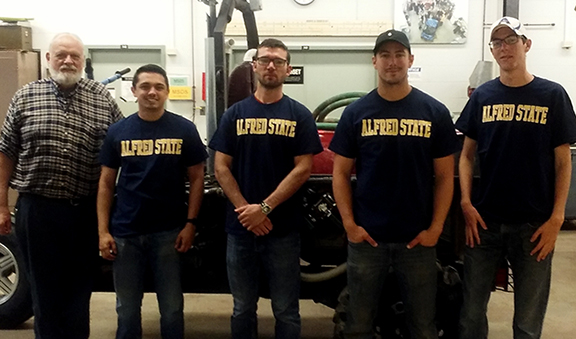 As for the competition, which was primarily an endurance test, each team's vehicle was required to haul three 55-gallon drums full of water three times around a very muddy track that was about 1.5 miles in length. The teams then had to unload the water into a pond, reload the barrels with water, and repeat the process until the competition ended.
While the Alfred State squad experienced a number of mechanical challenges throughout the day, they never relented, completing four cycles of the competition. After all points were calculated, judges determined that the Alfred State group had tied for first.
"The team performed professionally and admirably through all of the difficulties and mechanical challenges that they faced," Martinelli said. "They never once considered quitting."