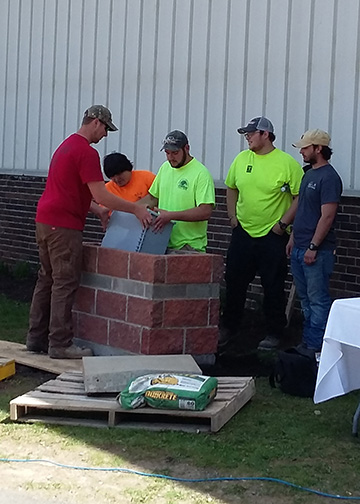 From a mechanical bull, to a competitive tug of war contest, to a time capsule dedication, this year's Hog Wild Day celebration on Alfred State's School of Applied Technology campus was definitely one to remember.
Featuring a carnival theme, the annual end-of-the-school-year celebration included a number of activities, such as jousting, mechanical bull-riding, and carnival games. Various prizes and raffle tickets were awarded, and a number of contests also took place, including tug of war, "Loudest Exhaust," and "Loudest Stereo."
In celebration of the 50th anniversary of the Wellsville campus, the college held a time capsule dedication at the Pioneer Student Union (PSU). The capsule is located just outside the PSU and is not to be opened for another 25 years.
Inside the capsule are a number of items, including copies of historical papers from the opening of the campus in October 1966, a list of original faculty members, a Wellsville campus faculty and staff directory, a school calendar from the 1966-1967 academic year, curriculum lists, and a map of the campus. Also included in the capsule are copies of current year's 50th anniversary celebration memorabilia, a current faculty and staff directory list, school calendar, curriculum catalog, and a map of the campus.
Speaking at the time capsule dedication was Jeff Stevens, interim dean of the Wellsville campus, who played the No. 1 songs from 50 years and 25 years ago over a speaker during his speech. He encouraged everyone to return to campus 25 years from now for the opening of the time capsule, and also to remember how "we took time out to have fun today, eat some snow cones, play some tug of war, and enjoy each other's company."
"It's important in life to slow down sometimes and just remember what was important," he said. "We might remember the songs, we might remember the moments, but we'll certainly have some great memories of the friendship and the camaraderie that came along with it."
Since Alfred State classes first began in Wellsville in 1966, the Educational Foundation of Alfred, Inc. has owned and maintained the campus, having made more than $8 million in improvements over the years. The group is a private foundation representing faculty, staff, and friends of Alfred State dedicated to improving the college community through the support of educational programs.