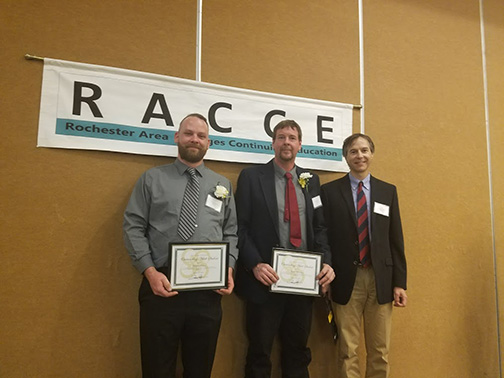 More than 30 of the brightest and most highly motivated adult students within the Rochester area were honored recently with Outstanding Adult Student Awards, including three from Alfred State.
Presenting the awards was the Rochester Area Colleges Continuing Education (RACCE), a consortium of area colleges that promotes and advocates for continuing education to adult and other non-traditional students in the greater Rochester area. RACCE's extensive network of college administrators provide information about educational programs to students and fosters collaboration and professional development opportunities among its membership.
The Outstanding Adult Student Award recognizes adult students who have excelled academically while successfully combining their college education with other commitments to family, job, career, and service to the community. Receiving awards from Alfred State were Kyle Brown, nursing, Randolph; James Dombert, automotive technology, Hornell; and Robert Orton, entrepreneurship, Wellsville.
Brown, who maintains a 3.88 GPA, has had model performance in his classes in preparation for a bachelor's in nursing. His participation, attitude, assistance to other students, and scholarly work are always exemplary.
Brown has received multiple awards and honors for his scholarly abilities and for his participation in civic engagement and community work. He also contributes his time and knowledge as a supplemental instructor to the nursing students at Alfred State, and has experience as a registered nurse at a summer camp as a lead RN.
Dombert, who has earned a 3.0 GPA, is a very dedicated student. His effort and performance on labs, homework, as well as midterm and final exams were outstanding. In addition to his academic work, Dombert works part time at Lowes in Hornell, and is a father to two boys.
Dombert's patience with other students in the class is always impressive. One particular student he worked with throughout an entire course did not have tools or a vehicle to work on. Dombert was kind and compassionate with this student, allowing him use his tools and project vehicle.
Orton, who maintains a 3.73 GPA, has been on the dean's list since the fall of 2015. He is married and has two young children. In addition to family and school, Orton is a teacher's aide in the Cattaraugus-Allegheny School District and works with special needs students. He is a member of the Cross Town Alliance Church and is a lead usher, groundskeeper, and leader of two groups, the Teenage Group and Couples' Group.
Orton is a veteran of the United States Air Force and spends time working with other veterans on campus. Outside of school, Orton is very busy with family, work, and volunteering. His ability to balance each of these aspects of his life is remarkable.