Story originally published 4/29/17 in Olean Times Herald by Tom Dinki.
PORTVILLE — More than 900 local middle and high school students got the chance to operate forklift simulators, explore virtual Minecraft maps and maybe even shake hands with their future boss at Dream It Do It Western New York's Manufacturing and STEM Fair Friday at Portville High School.
"The manufacturers here have come out — they're coming out of their busy day and wanting people to be aware of what we have here in the Olean area," said Evelyn Sabina, DIDI-WNY project coordinator.
Cody Young, a drafter with Pierce Steel Fabricators, showed students what the metal fabrication company does, from designing small metal signs to building large air filtration tanks.
"We build anything that's really, really small to anything that's really, really big that we might send all over the United States," he said.
Young also gave students advice on becoming drafters and welders. The 2014 Alfred State College graduate recommended students do what he did: attend a local college with a good drafting or welding program.
"(The fair) keeps kids interested in something for their future, and … shows the kids what's out there and what possibilities there are," he said.
Students in Tech Unleashed — a computer, augmented and virtual reality, graphic art, and video editing program for high school students — created a 10-minute Minecraft challenge for other students to try on laptops at the fair.
Christina Lopez, whose Olean tech center Boundless Connections runs Tech Unleashed with Strength Solutions, said students recreated Boundless Connections' North Union Street shop in sandbox video game Minecraft for the challenge.
"Right down to the details," she said.
Lopez noticed more girls at Friday's fair than in years past. Getting more girls interested in STEM has been a focus for DIDI-WNY, as women only made up 29 percent of the science and engineering workforce in 2013, despite making up half of the total U.S. college-educated workforce, according to the National Science Board.
"We're getting a lot more girls this year that are engaged, that actually know how to do this stuff, so that's good to see," Lopez said.
A group of middle school girls lined up to try Cummins Inc.'s virtual forklift simulator. Greg Scott, safety coordinator for Cummins' Lakewood engine factory, said students liked the hands-on aspects of the simulator, which is the same simulator Cummins uses to train its drivers.
"It really goes through everything a power vehicle driver would have to go through — all the controls, how to get things properly and safely around the plant up and down on the racks," Scott said.
The fair shows students there are manufacturing jobs all over, Scott said. Although the U.S. Bureau of Labor Statistics projects employment to decline in most manufacturing industries between 2012 and 2022, it also expects future job openings because of retiring workers.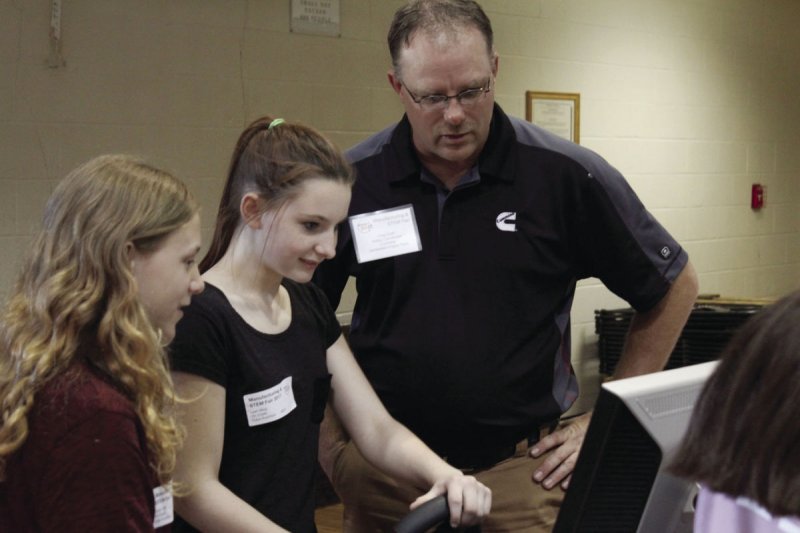 "We have 1,400 employees and we're going to need 1,400 more someday down the road," Scott said. "Some of these kids in four or five years might be building the same engine that's going to be doing down the road on a trailer, so it's great to get out here and show what we got, make some connections with the kids."