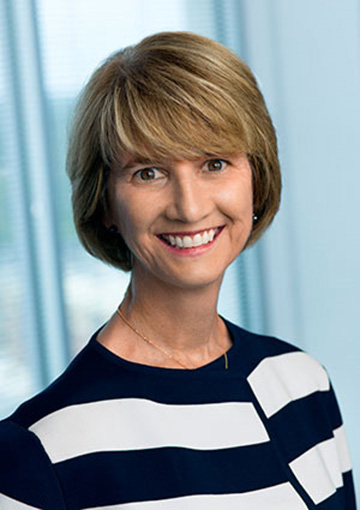 The State University of New York Board of Trustees appointed Dr. Kristina M. Johnson as the 13th chancellor of SUNY on April 24. Her distinguished career includes leadership roles in government, education, and innovation.
Johnson is a former Johns Hopkins University provost, and dean of Duke University's Pratt School of Engineering. As US undersecretary of energy, she supervised advanced energy research. Her credentials as an innovator include contributions to create the technology behind 3-D glasses, membership in the National Academy of Engineers, and induction in the Inventors Hall of Fame.
"At Alfred State, we are excited to welcome Dr. Johnson as the new chancellor of SUNY, and look forward to assisting her initiatives," said Dr. Skip Sullivan, president of Alfred State. "We believe our pioneering work in development of bio-refinery technology is just one example of programs at our college that match Dr. Johnson's interests in environmental sustainability, alternative energy, and innovation."
"Throughout her distinguished career, Kristina Johnson has not only been a faculty member, administrator, and visionary in higher education but also a dedicated public servant, national energy czar, successful entrepreneur, and an acclaimed inventor," said SUNY Chairman H. Carl McCall.
"Dr. Johnson is a proven leader and innovator whose cross-sector experience and strong belief in the power of education will be a great benefit to The State University of New York," said SUNY Chancellor Nancy L. Zimpher. "In academia, she has brought stakeholder groups together to create and implement strategic vision crafted at the hands of many. On the national forefront, she successfully managed and uplifted our country's most advanced energy research. And as a former faculty member turned entrepreneur, time and again she has bridged the gap between higher education and business to create programs that prepare students for in-demand careers. The future of SUNY is indeed bright under the leadership of Dr. Johnson."
"The State University of New York is a complex, captivating system like no other in higher education, and the opportunity to serve as its chancellor is the highest honor of my career," said Johnson. "I look forward to building on the excellent foundation for SUNY that Gov. Cuomo, Chancellor Zimpher, and the Board of Trustees have developed in partnership with SUNY presidents, faculty, staff, and students as well as the communities they serve in every region."
Johnson is the current founder and chief executive officer of Cube Hydro Partners, LLC, which develops hydroelectric generation facilities that provide clean energy to communities and businesses throughout the country. She was appointed by President Barack Obama as US undersecretary of energy and served as Johns Hopkins University provost and senior vice president for Academic Affairs, dean of the Pratt School of Engineering at Duke University, and professor at the University of Colorado-Boulder.
Throughout her career, Johnson has been an advocate for women in leadership, advanced STEM and STEAM education, pioneered the creation of jobs through higher education-industry partnerships, established intensive research opportunities for students and faculty, and positioned leading institutions of higher education for greater success through the development of innovative strategic plans.
Johnson is an inventor and entrepreneur who holds 118 US and international patents. She became a member of the National Academy of Inventors and the National Academy of Engineering in 2016 and was inducted into the National Inventors Hall of Fame, together with Gary Sharp, in 2015, for the development of polarization-control technologies that enabled high-quality 3-D movies and TV.
Zimpher will step down from the position in June 2017 after an eight-year term, during which she has positioned the university system as a national model through an unprecedented partnership with Gov. Andrew Cuomo. Johnson's appointment as chancellor is effective Sept. 5, 2017, at an annual state salary of $560,000. Interim leadership for the period between June and September will be appointed by the SUNY Board of Trustees at its June 21, 2017, meeting.
About the Bio-refinery Development and Commercialization Center:
As leaders in advanced manufacturing technology and bioprocessing science, Alfred State, SUNY College of Environmental Science and Forestry, and Applied Bio-refinery Sciences are developing the $14.2 million SUNY Bio-refinery Development and Commercialization Center (BDCC). This facility will be a research, commercialization, and product development resource for businesses and research institutions statewide and nationally. It will apply Hot Water Extraction bio-refinery technology to manufacture forest resource-based bio-products, including commercial fiber packaging, green compostable/biodegradable plastic, cellulosic nano materials, platform bio-chemicals, food additives, advanced technology biomaterials, high-tech wood products, and biofuels.