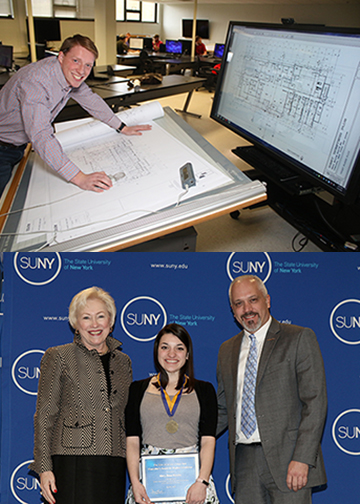 State University of New York Chancellor Nancy L. Zimpher honored 256 SUNY students from across the state in Albany recently with the 2017 Chancellor's Award for Student Excellence, including two recipients from Alfred State.
"It is my honor to celebrate the achievements of students who have surpassed SUNY's highest standards of academic excellence and leadership both on and off campus," said SUNY Chancellor Zimpher. "Every student we recognize today has demonstrated a strong commitment to their degree program, home campus, greater community, and much more. Congratulations to all of the students receiving this year's award."
Steve Levy, an ESPN SportsCenter anchor and SUNY Oswego class of 1987 graduate, joined Zimpher through a video message in congratulating the students on their success in college, and providing encouragement for the future. Through hard work and dedication to his craft, along with the opportunities presented at SUNY Oswego, Levy credits his college experience as setting him on a path to what is now a 25-year career at ESPN.
The two Alfred State students who received the Chancellor's Award for Excellence were Robert Mahany, a construction management major from Orchard Park; and Mary Rose Ricotta, a forensic science technology student from Derby.
Mahany was offered and accepted a full-time project engineer position upon graduation from the company for which he interned, Balfour Beatty Construction of Washington, DC. He has also received several men's soccer awards for his performance while on the college's team. In addition, Mahany held many student leadership positions during his time at Alfred State, including co-captain of men's soccer, civic engagement advocate, leadership assistant, and Alfred Programming Board member. Mahany was unable to attend the ceremony because he has been participating in Alfred State's study abroad program in Sorrento, Italy, throughout the spring 2017 semester.
Ricotta has been very involved at Alfred State, organizing an on-campus assembly featuring David King, founder of the iMatter Foundation, speaking to students about the importance of mental health awareness. In addition, she volunteered with Habitat for Humanity during spring break 2016 in Myrtle Beach, SC, and returned as a student leader during spring break 2017. Ricotta also serves as president of Alpha Sigma Sorority and liaison for a new student group seeking recognition as a Greek organization.
The Chancellor's Award for Student Excellence was created in 1997 to recognize students who have best demonstrated, and have been recognized for, the integration of academic excellence with accomplishments in the areas of leadership, athletics, community service, creative and performing arts, campus involvement, or career achievement.
Each year, SUNY campus presidents establish a selection committee, which reviews the accomplishments of exemplary students. Nominees are then forwarded to the Chancellor's Office for a second round of review. Finalists are then recommended to the Chancellor to become recipients of the award.