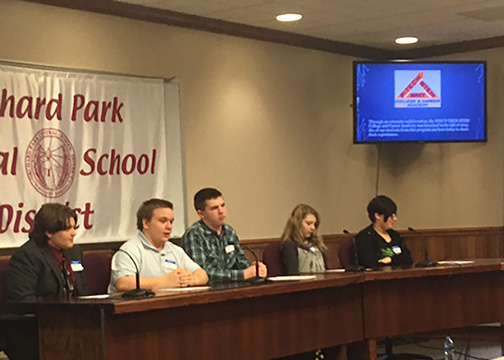 Beginning this fall, some 40 students entering high school in Orchard Park will also be making a big step on their path toward a career. A partnership between Alfred State and Erie 2-Chautauqua-Cattaraugus BOCES will allow these students to earn both a regents diploma from high school, along with an associate degree from college, to better prepare them to enter the workforce.
P-Tech (Pathways in Technology Early College High School) infuses the critical elements of high school, college, and industry together in a customized educational program. Students will complete high school, earn a college degree in only one additional year, and be ready to begin a career. The length of the program is tailored to the learning needs and educational goals of each student.
"P-Tech will follow many of our best practices at Alfred State. Students will work with specialized educators and industry leaders using project-based and personalized learning," stated Dr. Craig Clark, vice president for Economic Development at Alfred State. "There are high-wage, high-tech, high-demand jobs in advanced manufacturing, and graduates with a related associate degree will be first in line for these employment opportunities."
This initiative launches with a two-week summer program prior to the start of the first day of fall classes. Students interested in STEM (science, technology, engineering and math) are encouraged to join the program. The academy will incorporate a high-rigor STEM curriculum, and students participate in internships and job-shadowing experiences.
P-Tech empowers students to begin their college and professional lives more quickly by offering a supportive, small, customized learning environment to earn their Regents Diploma from their school district and an Associate of Occupational Science Degree in electrical construction and maintenance electrician or welding technology from Alfred State. As part of a structured program, students receive mentoring and internship opportunities to prepare them for available jobs in the region.
"Employers are looking for qualified workers who are fluid in technology, adaptable to change, and able to think on their feet," Clark said. "This program will create what can be called 'high-tech manufacturing athletes of the future' to help companies continue to grow and innovate, while engaging students in a program that leads to great careers and builds a better workforce for the regional economy."